Самые влиятельные люди мира — 2015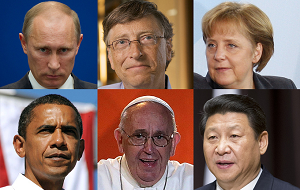 Forget about the 1%. The men and women who are featured on Forbes' annual ranking of the World's Most Powerful People are the 0.00000001% –the global elite whose actions move the planet. These heads of state, financiers, philanthropists and entrepreneurs truly run the world.
To compile the list, we considered hundreds of candidates from various walks of life all around the globe, and measured their power along four dimensions. First, we asked whether the candidate has power over lots of people.
«Самые влиятельные люди мира»
«Самые влиятельные люди мира 2015»
 President, Russia
Russia's president continues to prove he's one of the few men in the world powerful enough to do what he wants —and get away with it. International sanctions set in place after he seized Crimea and waged war-by-proxy in the Ukraine have kneecapped the Ruble and driven Russia into deepening recession, but haven't hurt Putin one bit: In June his approval ratings reached an all-time high of 89%. In October, he bombed ISIS forces in Syria and then met face-to-face with President Assad, making the U.S. and NATO look weak in the region, and helping rebuild Russian influence abroad.
Chancellor, Germany
German Chancellor Angela Merkel continues her reign as the most powerful woman on the planet for 10 years running. Why? She clinched a third four-year term of Europe's most vibrant economy in December 2014, making her the longest-serving elected EU head of state. She fought off a national recession during the global economic crisis with stimulus packages and government subsidies for companies that cut hours for workers, and she is in the thick of trying to help Greece revive its economy. She has used her power against ISIS, breaking the post-Nazi-era taboo of direct involvement in military actions by sending arms to Kurdish fighters. In the Russia-Ukraine crisis, she has been engaging in shuttle diplomacy trying to broker a peace deal with Vladimir Putin. There's only one woman who has a chance of endangering her tenure as No. 1 in 2016 — the world's No. 2 most powerful woman.
President, United States
There's no doubt that the United States remains the world's greatest economic, cultural, diplomatic, technological and military power. But as Obama enters the final year of his presidency, it's clear his influence is shrinking, and it's a bigger struggle than ever to get things done. At home, his approval ratings are perpetually stuck under 50%; abroad, he's outshined by Angela Merkel in Europe, and outmaneuvered by Putin in the Middle East.
Bishop of Rome, Roman Catholic Church
The spiritual leader to one-sixth of the world's population — 1.2 billion souls. Pope Francis has made it his mission to transform the longstanding conservative image of the Catholic Church. The pontiff made a six-day visit to the U.S. in September, addressing Congress and the United Nations and urging actions on issues including climate change, immigration, and the persecution of Christians and other religious minorities in the Middle East. He also visited inmates in a Philadelphia jail and met with victims of sexual abuse, telling those who were molested by priests he was «deeply sorry» for occasions where their accounts were not believed. The first Jesuit and Latin American Bishop of Rome preaches compassion for the poor and a greater role for women while signaling the church to quiet its focus on «issues related to abortion, gay marriage and the use of contraceptives.»
General Secretary, Communist Party, China
Xi Jinping holds all three offices required to be China's paramount leader, becoming what some have called the most powerful Chinese ruler since Mao Zedong. Xi was quick to see the benefits of privatization-friendly reforms and further signs of fresh thinking are everywhere. He has a surprisingly assertive public profile, even allowing the state media to publish a day-in-the-life account of his workday. Xi has fought harder than his predecessors against corruption and in favor of greater economic and security alliances. Xi has been a strong proponent of Chinese investment abroad. He met with leaders in the U.S. and U.K. in October in a trip that brought about an estimated $46 billion in trade and investment deals, and heads to Vietnam and Singapore in November.
Cofounder, Bill & Melinda Gates Foundation
It's a landmark year for the world's richest man. Bill Gates and his friend Paul Allen launched Microsoft 40 years ago with the goal of getting a computer on every person's desk. Now, 84% of U.S. households own a computer. Fifteen years ago, Bill and Melinda Gates started their charitable foundation with the goal of reducing inequity, and have put more than $30 billion to work toward that end. Early in 2015 the couple picked a big bet for the foundation's next stage: «The lives of people in poor countries will improve faster in the next 15 years than at any other time in history. And their lives will improve more than anyone else's.» In May Gates said his foundation would back a disease surveillance network in Africa and South Asia to be on the lookout for the next Ebola or SARS. The following month Melinda Gates announced a $776 million investment over the next 6 years to improve nutrition and reduce child mortality caused by malnutrition.
Chair, Federal Reserve, Washington, United States
Janet Yellen made history in 2014 when she became the first female head of the Federal Reserve. The Yale and Brown educated economist has barely had a moments rest since then: She took over shortly after the central bank began unwinding its recession era bond buying program and then deftly ushered markets through six cuts that brought monthly purchases to $0 from a peak of $85 billion. Now the Fed could loosen the economic reigns further by beginning to hike interest rates as soon as December 2015 — a feat that was anticipated earlier in the year but hasn't attempted since 2004. With so much at stake a single word from Yellen can send asset prices swinging. Meanwhile she has been fighting a call to increase congressional supervision of the Fed while pushing to improve the Fed's oversight of big banks.
Prime Minister, United Kingdom
The U.K. prime minister held onto his spot at 10 Downing Street this year, winning reelection in May. He now presides over the country's only conservative majority government in 23 years. The Conservative leader is fond of Twitter — he has 834,000 followers — and selfies, most famously the shot with Barack Obama and then Danish PM Helle Thorning-Schmidt during Nelson Mandela's memorial service in 2013.
Prime Minister, India
India's populist PM presided over 7.4% GDP growth in his first year in office, and raised his profile as a global leader during official visits with Barack Obama and Xi Jinping. A barnstorming tour of Silicon Valley reinforced his nation's massive importance in tech. But governing 1.2 billion people requires more than shaking hands: Now Modi must pass his party's reform agenda and keep fractious opposition under control.
CEO, Google
Larry Page is now CEO of Alphabet, a new publicly traded parent company that includes Google, the Google X lab, and businesses such as Calico, Nest and Fiber. In August, Page announced that he'd be handing over his Google CEO post to the search giant's product czar, Sundar Pichai. The announcement came soon after Google stock surged in July, propelled by success in mobile search and with YouTube and a promise from new Chief Financial Officer Ruth Porat to rein in spending. Earlier this year Google unveiled Sidewalk Labs, a new subsidiary to improve quality of life in cities, as well as plans to provide mobile phone services in the U.S. Page cofounded Google in 1998 with fellow Stanford Ph.D. student Sergey Brin and was its first CEO until 2001. After serving as president of products, he took the helm again in 2011. In October 2014, he transferred most of his daily responsibilities to Pichai in order to focus on longer-term strategy. A clean energy advocate, Page's network of houses in Palo Alto uses fuel cells, geothermal energy and rainwater capture.
President, European Central Bank
Europe's chief banker has fought off economic stagnation over the last year with an aggressive course of quantitative easing, but when you're responsible for maintaining financial unity across 18 countries, the next crisis is never far off . Draghi is already signaling he'll need to continue the stimulus programs, and the Euro zone has only postponed ?not solved? Greece's credit problems. A former governor of the Banca d'Italia, Draghi was nicknamed «Super Mario» for his heroic ability to navigate Italian politics.
Premier, China
At the World Economic Forum meeting in September, Le Keqiang said that nearly 10 million urban jobs were created in the first eight months of 2014, an increase from the previous year. In his fourth year as Premier of China, the country's economy has also seen modest improvements, with an increased GDP and a currency that is rising against the dollar. In October Keqiang and German Chancellor Angela Merkel announced $2.5 billion worth of investment deals and cooperation with Volkswagen, Diamler and other German companies. Keqiang, who was educated at Peking University, a school known for its liberal teaching, came from modest beginnings through the Communist Party and remains loyal to the party.
CEO, Berkshire Hathaway
Revered as a corporate deity for his decades-long reputation for smart investing, Warren Buffett pulled off his biggest deal ever in August, when his Berkshire Hathaway agreed to pay a record $37 billion for Precision Castparts, a maker of aerospace and industrial parts. Lately he's also teamed up in various ways with 3G Capital-a firm run by several Brazilian billionaires-in deals for Kraft Foods, Heinz, Burger King and coffeehouse chain Tim Hortons. Berkshire Hathaway, which owns companies like Geico, Dairy Queen and Fruit of the Loom, is now the fourth most valuable public company in the U.S. Going into the 2016 presidential elections, Buffett is one of Hillary Clinton's biggest proponents. He has long supported the former First Lady's bid to return to the White House-donating to her campaign and, perhaps more crucially, adding his stamp of approval. He has quietly become a big backer of Planned Parenthood and gun-control group Everytown for Gun Safety. In July Buffett gave away Berkshire stock worth more than $2.8 billion, bringing his lifetime giving to nearly $25.6 billion. Buffett says his best ever investment was buying Benjamin Graham's legendary book, «The Intelligent Investor,» in 1949. He later studied under Graham at Columbia Business School. Buffett is known for his relative frugality, still living in the Omaha home he purchased for $31,500 in 1958.
Monarch
Crowned King of Saudi Arabia in January 2015 after the death of his half-brother, King Abdullah, Al Saud began wielding his power immediately. In April he announced he would alter the Saudi line of succession, in which kingship is passed among the sons of Abdulaziz ibm Saud, the country's founder. His new plan passes the crown to the next generation, putting grandson Prince Mohammed bin Nayef in line for the throne and ensuring a younger line of incoming rulers. Al Saud became the governor of the province of Riyadh in 1963, holding office for 48 years. Under his leadership, Riyadh urbanized and prospered, attracting tourism, trade, and investment. Al Saud advocates for philanthropy in poor Muslim countries and has been credited with acting as a mediator among the extended Al Saud family. In 2013 he launched a personal Twitter account, gaining upwards of 200,000 followers after his first Tweet.
Honorary Chairman, América Móvil
Telecom magnate Carlos Slim Helu has some 300 million mobile phone and land-line subscribers in 19 countries through America Movil, which he controls. His lock on Mexico's telecom market — America Movil units have had a 70% share of the mobile phone market and 80% of landlines — will be loosened under a Mexican law passed last year that forbids companies from controlling more than 50% of telecom and broadcast markets. Slim has been buying assets in Spain and has bid on oil production contracts in Mexico, which opened to private and foreign capital for the first time in 8 decades. On the philanthropic side, in July his Carlos Slim Foundation partnered with the nonprofit Autism Speaks to translate information and tools into Spanish.
President, France
With approval ratings as low as 17%, the head of the French state is taking bold steps to turn his term in office around, including purging his cabinet of long-standing ministers from the old left and joining the U.S. in air strikes against ISIS in Iraq. Hopes are not high that François Hollande will be able to fulfill his May 2012 election promise to balance the budget of the world's fifth-richest country ($2.9 trillion), particularly with French unemployment at a new record high of 3.4 million. How did Hollande fare in this year's attacks by his former lover in a bestselling memoir? As one columnist put it, «The president has been stripped naked. Naked as no president has been before him.»
CEO and Founder, Amazon.com
Things are humming at Amazon.com under the leadership of Jeff Bezos. In July the company announced a better-than-expected profit -$92 million- for the second quarter. That news boosted the stock considerably, and the gains have mostly stuck, making Bezos, who owns 18% of Amazon, the fifth richest man in the world. It hasn't been all rosy. In August The New York Times published a scathing story detailing the high-pressure, long-hour work environment inside the retailer. In a letter to employees in response, the Washington Post owner wrote that he didn't recognize the company described but said that anyone working in a company like that «would be crazy to stay.» Bezos continues to make bold bets on new technologies. In late July the company proposed a plan for high-speed-drone airspace that would enable flying robots to carry packages to consumers. In September Bezos announced that his aerospace company, Blue Origin, would spend over $200 million to build reusable rockets and launch them into orbit from a site at Cape Canaveral by the end of the decade.
Grand Ayatollah, Iran
Pressured by a struggling economy suffering under plummeting oil prices and years of sanctions imposed by the West, Ayatollah Ali Khamenei begrudgingly approved a nuclear agreement between Iran and six world powers. The pact agreed to limit the nation's nuclear ability in exchange for relief from sanctions; Tehran has since begun decommissioning centrifuges used for enriching uranium. Iran's Supreme Leader has long been focused on establishing the country's status as a world player in the nuclear field and despite the pact has remained vocal in his opposition of the U.S. «America is the main part of the problem in the region, not part of the solution,» Khomeini said in November.
Cofounder, Chairman and CEO, Facebook
Facebook had 1 billion users in a single day for the first time ever in August. A year after buying virtual reality startup Oculus, Facebook announced that the firm's Rift VR headset would start shipping to customers in early 2016. All this helped push founder Mark Zuckerberg's fortune up by $10 billion in the past year. Zuckerberg founded the social network in 2004 and dropped out of Harvard to move the company to Silicon Valley. Since launching its Internet.org initiative in July 2014, Facebook has given free basic Internet services to more than a billion people in 17 countries in Asia, Africa and Latin America. In May Zuckerberg and his wife, Priscilla Chan, were among funders who invested a combined $100 million in AltSchool, a new company working to promote high-tech personalized education. In June the couple also donated $5 million to a college scholarship fund for undocumented immigrants. His $100 million donation to the public school system in Newark, N.J., begun in 2010, did not achieve the widespread reform he'd championed. In a surprisingly personal Facebook post in late July, Zuckerberg revealed that he and his wife are expecting a baby girl after 3 miscarriages.
CEO, JPMorgan Chase
The CEO of JPMorgan Chase returned to work in October after taking a break to receive treatment for throat cancer. Dimon announced his diagnosis to staff and shareholders in July, adding that his prognosis was good and the cancer was curable. That wasn't the only hit the company took this year. JPMorgan Chase announced it was the victim of a cyber attack this summer that compromised 76 million households and 7 million small businesses. Since taking over in 2005, Dimon has led the company through the financial crisis and on to fiscal 2012 profits of $21.3 billion.
Prime Minister, Israel
Prime Minister Benjamin Netanyahu led the biggest military engagement of his three terms in office this year during a 50-day war against Hamas in Gaza that resulted in over 2,000 deaths, the majority of them Palestinian. Netanyahu faced sharp international criticism for the conflict before a cease-fire was established at the end of August. He barked back before the UN this September: «Many of the countries represented here… evidently don't understand that ISIS and Hamas are branches of the same poisonous tree.» His tiny Middle East country of 8 million is dubbed «startup nation,» and boasts the highest number of startups per capita in the world.
Founder and Chairman of Alibaba Group
From Davos to New York, Jack Ma has emerged as the symbol of China's rise to No. 1 in Internet and mobile phone users. His e-commerce firm Alibaba Group, whose $21.8 billion IPO in New York in 2014 set a record as the world's biggest public stock offering, has made a swath of deals, investing in movies like «Mission Impossible-Rogue Nation,» creating a sports division with Chinese partners and forming an online portal with U.S. department store Macy's. Investors have bid up private market valuation of Ant Financial, his online financial services arm. In contrast, amid allegations that it was selling counterfeit goods, Alibaba Group's stock price has declined throughout most of 2015 and fell below its IPO price in September, a drop of 50% from its November 2014 peak. In September, Alibaba said in a statement that «The sale of knock-off goods by third-party merchants is a risk that all operators of third-party transaction platforms globally face, including eBay and Amazon.»
Managing director, International Monetary Fund
Christine Lagarde is entering the last year of her first term heading the International Monetary Fund, the organization which serves as economic advisor and backstop for 188 countries. When she took over in 2011 the world economy was still recovering from the financial crisis. Today Lagarde is projecting 3.5% annual global growth — only a hint above last year's rate and down from 4% in 2011. Lagarde calls this the «new mediocre» and is vocal about her concern that slow growth has become the «new reality.» How is the IMF helping? By viewing emerging markets as unique locals rather than a single entity and warning central bankers — the U.S. Federal Reserve especially — to be wary of the potential negative effects of differing monetary policy across the globe. Under Lagarde the IMF has supported efforts to increase female labor force participation as way to reduce poverty and inequality.
CEO, General Electric
Immelt oversees one of the most diverse businesses on the planet, a manufacturer of everything from aircraft engines to lightbulbs to TV sitcoms. Now the ninth biggest public company in the world, GE boasts annual revenues of more than $148 billion, and shares of its stock are trading near a five-year high. In October, the company said it would spin off its LED, solar, energy storage and electric vehicle businesses into a new $1 billion energy startup called Current.
CEO, Exxon Mobil
Under Rex Tillerson's leadership, ExxonMobil struck oil this summer drilling in Russia's Arctic region, despite U.S. sanctions against Kremlin-controlled partner Rosneft. Back home, Tillerson has urged an end to the decades-old ban on exporting U.S. crude oil and also supports lifting regulatory constraints on the building of projects to export liquefied natural gas. As CEO of the world's most valuable publicly traded oil company, Tillerson presides over an operation that has generated $34 billion in net income in the past year, and paid more than $80 billion in taxes.
CEO, Goldman Sachs Group
Blankfein's indomitable investment bank, Goldman Sachs, manages $911.5 billion in assets. The Bronx native, who grew up in a housing project in Brooklyn and went on to earn degrees from Harvard University, has held the title of both chair and CEO since 2006.
CEO, Apple
Tim Cook is the man behind the most valuable company in the world ($145.3 billion brand value, by our count) and varsity player in design, technology, publishing, Hollywood and music. Fiscal year 2015 has been Apple's best to date, bolstered by huge sales of the iPhone 6 and 6s, of which the company claims to have sold 48 million during the fourth quarter. The Alabama-born Cook is also reemphasizing the company's efforts in China, and it shows?Apple sales in the country are up 99% overall, and the company has plans for 40 stores in China by mid-2016, up from its current 25. Cook made a bold personal move in October of last year when he came out publicly, saying, «I'm proud to be gay, and I consider being gay among the greatest gifts God has given me.»
CEO, Toyota Motor
The grandson of Toyota Motor's founder, Kiichiro Toyoda, has led the company through global recession, recalls and the 2011 earthquake and tsunami. Toyota is the world's largest car company by sales, reclaiming the lead from Volkswagen and selling 7.49 million vehicles in the first nine months of 2015. The company has been public about favoring hydrogen fuel cell technology in its next generation of vehicles over battery-powered cars. «I want everybody in the world to see our company as the greatest car manufacturer, rather than the biggest,» Toyoda said at the 2015 Tokyo Auto show.
CEO, Koch Industries
One of the most politically influential billionaires in the U.S., Charles Koch compares his crusade for smaller government and economic liberty to the civil rights campaign. «Will you stand with us to help save our country?» Koch asked the crowd gathered in August at the Koch-backed Freedom Partners Policy Leaders conference in California. In attendance were Republican hopefuls Jeb Bush, Florida Senator Marco Rubio and Texas Senator Ted Cruz, all there to pay their respects to the Kochs. Donald Trump wasn't invited. Funding for the Koch influence machine comes from $115 billion (sales) Koch Industries, which Charles continues to steer as chairman. He's held that job since 1967 when the company was worth $50 million. Now the second largest private company in America, it's valued at $100 billion. He owns the vast majority of the business with his brother, David Koch, who runs its chemical technology business.
Executive Vice President, Koch Industries
New York City's richest resident David Koch shares control of $115 billion (sales) Koch Industries, the second largest private company in the U.S., with his older brother Charles. Koch Industries has interests in oil pipelines, refineries, building materials, paper towels and Dixie cups, and is growing with acquisitions fueled by the company's prodigious cash flow. Charles is chairman, while David runs its chemical technology business. The brothers' fortunes fell slightly in the past year owing to weakness in the manufacturing and pipeline sectors. He's also joined his brother's campaign to raise and spend almost $900 million on political activity, education and issues like criminal justice reform in the run-up to the 2016 election. He is an active philanthropist, having doled out $1.2 billion so far. The Metropolitan Museum of Art has the David H. Koch Plaza, part of a $65 million renovation he funded, and Koch, who has battled prostate cancer, paid $4 million of a $150 million pledge to build a new facility at Memorial Sloan Kettering Cancer Center.
Cofounder, Director Of Special Projects, Google
Sergey Brin is now president of Alphabet, the new parent company he and cofounder Larry Page announced in August. Their aim: «Getting more ambitious things done.» Google-of which YouTube will remain a part-is one of the multiple companies that exist under the Alphabet umbrella. The others include Calico, which is focused on longevity; Nest, a smart-home-thermostat firm; Google Ventures; and Google X, the experimental lab Brin had been running. The creation of Alphabet is an attempt to create a formal corporate structure for some of the ambitious projects the 2 men have been tackling within Google. The Google X group, for example, produced the computer-on-your-lenses Google Glass (for which development appears to be stalled), as well as self-driving cars (it introduced prototypes last year). Google stock hit an alltime high in July, propelled by tough talk about financial discipline by new CFO Ruth Porat and strong results from YouTube and the mobile-search division. In May Brin quietly finalized his divorce with Anne Wojcicki, CEO of genetic-testing firm 23andMe, nearly 2 years after his affair with a young Google employee made headlines.
Chairman, CK Hutchison Holdings
One of the world's great empire builders, Li Ka-shing named his flagship company, Cheung Kong, after the Yangtze River, whose power comes from a confluence of countless smaller streams. Today his own power comes from his far-reaching business domain, which has operations in 52 countries. Increasingly much of those operations are in Europe. In all, his companies spent $28 billion between 2010 and 2014 buying assets on that continent, including a water company, utility firms and two mobile phone operators. Li kicked off 2015 by announcing a restructuring of his assets that included creating two new Hong Kong listed companies: CKH Holding, which took over all non-property businesses; and CK Property, which combined the real estate businesses. In September China's government-controlled media questioned his loyalty to greater China due in part to earlier asset sales and European investments. Li issued a 3-page response denying the allegations.
CEO, Wal-Mart Stores
Doug McMillon took the reins of the retail colossus last year after an entire career at Wal-Mart'starting with a summer job unloading trucks as a teen?and became the youngest CEO to lead the company since founder Sam Walton. He now helms the world's largest private workforce, with 2.2 million employees, and the most dominant company in sales, with $485 billion in annual revenue. The company is on track for a flat revenue year, citing higher labor costs as a factor (a $10 an hour minimum wage for all store employees was announced earlier this year and takes effect in February 2016, to the tune of $1 billion this fiscal year.) «There will be no better place in retail,» McMillon promised in a letter to associates announcing the changes, «to learn, grow, and build a career than Wal-mart.»
Vice Chair, Samsung Group
The only son of Samsung Group Chairman Lee Kun-Hee, Jay Y. Lee has been groomed for years to take over Korea's biggest conglomerate, whose affiliates encompass everything from fashion, theme parks and insurance to advanced materials, IT services and smartphones and TVs. Jay Y. Lee began his career at Samsung Electronics in 1991. He became president of Samsung Electronics in 2009 and was named vice chairman in 2013. The succession issue came into sharper focus in May 2014, when his father suffered a heart attack and was hospitalized amidst a major restructuring of the family empire. Jay Y. Lee studied Asian history at Seoul National University in Korea and majored in business at Keio University in Japan. He also attended a doctoral program at Harvard Business School, focusing on e-commerce. He is known for keeping a low profile like his father. He did, however, attend the memorial service for Steve Jobs in October 2011.
Cofounder, CEO, BlackRock
BlackRock's massive $4.3 trillion in assets under management may actually understate the influence of the world's largest money manager. Fink is often the first phone call for governments and businesses around the globe with questions, with past and present clients and partners including Her Majesty's Treasury, the Federal Reserve Bank of New York, AT&T and Google. Despite increasingly competition for mom and pop nest eggs, Fink's decisions have a huge impact the retirement savings of millions of workers — 93% of the largest U.S. retirement plans are managed by BlackRock. Last year the company celebrated its 25th anniversary.
Chairman and CEO, News Corp
Rupert Murdoch, arguably the world's most powerful media tycoon, stepped down from the CEO role at cable TV and broadcasting giant 21st Century Fox in July 2015 but remains executive co-chairman alongside his son Lachlan; his son James Murdoch took over as CEO. Rupert Murdoch also continues to chair News Corp, which owns The Wall Street Journal and other print operations. He built a media empire out of Adelaide, Australia; at 22 he inherited two newspapers when his father died. Today, the Murdoch family controls 120 newspapers in five countries; a large cable TV network comprised of the Fox channels in the U.S. and Fox International Channels across Europe, Latin America, Africa, and Asia; book publishing powerhouse HarperCollins; a movie studio and a large broadcasting and satellite TV arm.
Chairman, Reliance Industries
Mukesh Ambani has retained his position as India's richest person for close to a decade despite shares of his oil and gas giant Reliance Industries taking a hit due to lower oil prices. The $62.2 billion (revenues) firm is preparing for the launch of 4G services by its telecom arm Reliance Jio for which it has teamed up with once-estranged younger sibling Anil Ambani's Reliance Communications. Wife Nita, who sits on Reliance's board, is involved in Jio's marketing plan. His U.S.-educated twins, Akash and Isha, have board seats at Reliance's telecom and retail units. (Reliance controls media outfit Network18, which publishes Forbes India, a licensed publication of Forbes.)
President, Brazil
Calls for President Dilma Rousseff's resignation were chanted through the streets of Brazil at the start of this year, just months into her second term. Rousseff, who ran on campaign promises to harness oil and boost the economy, is now battling a bribery scandal that involves the national oil company Petrobras. As Brazil's first female president, she was elected in 2010 and was on track to end poverty in the world's seventh-largest economy. But the hopes of her supporters have fallen flat in recent months as her approval ratings have dropped to 13%. Additionally, the economy of the country with a GDP of $2.19 trillion could shrink for the second consecutive year.
Founder, CEO, Space Exploration Technologies Corp.
Elon Musk's meteoric ride hit a speed bump in June when one of his SpaceX rockets, on its way to resupply the International Space Station, exploded two minutes into the trip. The failed mission is part of a $1.6 billion contract that Musk's private spacecraft company has with NASA to resupply the International Space Station. Thanks in part to that contract, Musk, who initially invested $100 million of his own money in SpaceX, raised $1 billion from new investors including Google and Fidelity in January 2015, valuing the company north of $10 billion. Tesla Motors, the luxury electric carmaker he founded and runs, is gearing up for the release of the Model X sports-utility vehicle in 2016 and struggling to both turn a profit and meet demand for its Model S sedans. The South African-born Musk emigrated to Canada at age 17 and then to the U.S. as a transfer student to the University of Pennsylvania. He made his first fortune as a cofounder of Paypal, and is the chairman and principal shareholder of SolarCity, the publicly-traded solar panel designer and installer run by his cousin, Lyndon Rive. In 2013, Musk unveiled the Hyperloop, a design for a high-speed transportation system that would send riders through tubes in pods. In June 2015 SpaceX announced it would hold a competition for students and independent engineering teams to design pods and test them on the company's one-mile track.
President, United Arab Emirates
As hereditary ruler of U.A.E. capital Abu Dhabi, Al-Nahyan is head of the country's richest emirate and is one of the world's wealthiest monarchs. It's not all from oil, although he does control 97.8 billion barrels of proved reserves: He also runs the world's second-largest sovereign wealth fund, with reported assets of $773 billion. The U.A.E. has gone to the mat in the war against Islamist extremists, and ISIS in particular. In Yemen, 45 U.A.E. soldiers were killed by rebel forces in one day in September 2015, marking the largest ever single-day death toll for the 44-year old nation's army.
Secretary-General, United Nations
In September, the secretary-general warned the 70th session of the General Assembly that «suffering today is at heights not seen in a generation,» and that it will fall to the UN to provide humanitarian assistance to 100 million people around the globe. As head of the 193 member international organization, Ban helps promote peace, fight hunger and protect millions of refugees worldwide; he's now entering his final year as secretary general, and a successor will be appointed by the General Assembly in 2016.
Prime Minister, Japan
Japanese Prime Ministers come and go often, but Abe's now finishing the third year of his second (non-consecutive) term. His economic policies ?dubbed «Abenomics»? have pumped billions of dollars into the world's third largest economy. And although the remedy isn't working quite as well as he'd like, he was re-elected as head of Japan's ruling party in September.
Chairman, China Investment Corp, China
After just over one year as leader of China's largest sovereign wealth funds ($652.7 billion in assets), Ding Xuedong added to his portfolio, taking over as chair of China International Capital Corp., one of the country's leading investment banks, in October. This follows the resignations of former chair Jin Liqun and CEO Levin Zhu Yunlai. This June Ding penned an article in the Financial Times outlining his wealth fund strategy to invest in agricultural and global food supplies.
President, South Korea
Overseeing the world's 14th largest economy from the capital in Seoul, a mere 120 miles from her irascible and nuclear-tipped neighbor, Kim Jong-un, Park has the weight of the Sewol ferry tragedy and a massive bribery scandal on her shoulders. It's just over one year since the disaster killed more than 300 people and last month Park expressed «regret» over «prevalent, deep-rooted corruption» in the government. Prime Minister Lee Wan-koo recently resigned; her initial PM, Chung Hong-won, quit after the ferry tragedy in 2014. Like her approval ratings, the South Korean economy has continued on a downward trend with weak wages, consumer spending and export market. Despite these shadows, Park recently signed a Canada-Korea Free Trade Agreement (CKFTA), an environmental cooperation treaty with China and Japan, and has called for a Northeast Asia nuclear safety body.
Formerly America's richest politician as New York City mayor, Michael Bloomberg is mostly occupied with reinvigorating the financial data and media company bearing his name. Since returning as CEO in early 2015, he's shaken up Bloomberg News, replacing its top editor and move to get back to basics and focus on core business news. Bloomberg, a lifelong Democrat before running on the Republican ticket as mayor and serving three terms, still wields enormous political clout, spending millions of dollars supporting progressive issues such as gun control and women's economic development. His work has earned him some powerful supporters: In August conservative Rupert Murdoch publicly urged him to run for President. The former mayor has remained silent. So far Bloomberg has not officially endorsed anyone but has told the New York Times that «Hillary and Jeb are the only two who know how to make the trains run.» A major philanthropist, he announced a $100 million donation in June to Cornell's New York City technology campus, bringing his overall lifetime giving to $3.7 billion. In April Mike Bloomberg reportedly paid $25 million for a second London home; he owns a variety of properties around the globe, including in the Hamptons, Manhattan, Westchester County, Colorado and Bermuda.
President, World Bank
As head of the World Bank, Kim doles out cash (more than $35 billion a year) and development advice to help the world's poor, running developmental programs in 188 member countries. A medical doctor, Kim committed over $400 million last year to help improve public health systems and fight the Ebola outbreak in Africa.
Supreme Leader, North Korea
In theory, North Korea's «Supreme Leader» has absolute has absolute control over the lives of 25 million people who live in his reclusive, rusting state; in practice, it's not clear how much power he shares with military leaders. What's certain is that Kim is fond the same saber-rattling that's come to define the «hermit kingdom» ?in September, North Korea announced plans to launch a rocket assumed to be part of an intercontinental ballistic missile program.
Chairman, Rosneft
Igor Sechin may be the left hand man to the World's Most Powerful Man, but that didn't stop him or his giant oil company, Rosneft, from landing on a U.S. visa and financial sanctions list announced after the Russian military intervention in the Ukraine. «Putin trusts him more than anyone else,» says Russian expert Mark Galeotti of NYU. «And if Putin trusts you, power and wealth always follow.» Suffice it to say that the Kremlin is one of Rosneft's major stockholders.
Chinese entrepreneur Ma Huateng—chairman and CEO of Tencent Holdings Ltd.,
Ma Huateng, also known as Pony Ma, is one of China's top Internet tycoons. Tencent Holdings, which he cofounded in 1998 and where he is CEO, is the country's largest Internet portal. Its instant messenger service, QQ.com, is one of the world's 10 largest websites. Its WeChat mobile texting service has 600 million users and is enabling a boom in mobile commerce through its WeChat Wallet. Tencent Games is the largest online game community in China. In April Hong-Kong listed Tencent purchased a $400 million stake in Chinese classified listings platform
58.com
 and also spent $126 million for nearly 15% of Nasdaq-listed mobile game producer Glu Mobile.
President, Egypt
A former Egyptian defense minister and commander-in-chief of the armed forces, Abdel Fattah el-Sisi took over leadership of the most populous Arab state well before he was elected president last year with 96.6% of the vote. In 2013, the military ousted President Mohamed Morsi, with el-Sisi saying Morsi «did not achieve the goals of the people.» Friend of economic reform and foe to many civil liberties and «extremist thought,» el-Sisi has backed actions against ISIS as the West turns to the former general as a moderating force?and economic stabilizer?in the region.
Governor, Bank of Japan, Japan
The chief banker of the world's No. 3 largest economy was hired in March 2013 after serving as president of the Asian Development Bank for eight years. Kuroda is critical to Japanese Prime Minister Shinzo Abe's struggling leadership team. However, in a meeting at the end of October, the Bank of Japan's governor pushed the projected date for reaching the country's inflation target further forward, to March 2017, blaming falling oil prices but declining to implement stimulus measures.
CEO, Softbank
Masayoshi Son's mobile internet powerhouse Softbank minted money after China's e-commerce giant Alibaba went pubilc in September 2014. Softbank holds a 32% stake. Despite a steep drop in Alibaba's shares, Son has said he will stick with his holdings over the long term. Inspired by legendary investor Warren Buffett, he hopes to cultivate a «Son premium» much like the «Buffet premium.» He also says he wants to sink $10 billion into Indian startups. Another area of focus: robotics. In June 2014 he introduced a human-like robot named «Pepper,» billed as the first robot that can sense human feelings. After his attempted $3.4 billion takeover of DreamWorks Animation fell apart in late 2014, Son invested $250 million in Legendary Entertainment, maker of the movies «Godzilla» and «Interstellar,» in an effort to move into content creation. Son spends about half his time in the U.S. He bought a home in Woodside, California — not far from San Francisco — for more than $100 million in 2012.
President, Mexico
The Mexican president's approval rating fell to a new low this summer after the escape of drug kingpin Joaquin «El Chapo» Guzman Lorea from a maximum security prison. Pena Nieto's was already struggling to hold his country's esteem in the wake of the murders of 43 students by drug-gang members in the state of Guerrero, in southern Mexico. Pena Nieto campaigned on the promises that he would end drug wars and revitalize the economy. Despite efforts to jump-start the economy?including reforms to the telecommunications industry and cheaper borrowing costs— frustrations grow about his inability to improve the economy and combat drug-related crime and corruption have grown.
Oil Minister, Saudi Arabia
Despite plummeting oil prices, Ali Al-Naimi remains the world's most powerful oilman. As Saudi Arabia's oil minister, Al-Naimi appears determined for the Kingdom to retain market dominance over competitors including the U.S., declining so far to cut output even amid a recent price slide to $40 a barrel. Change is in the works: An aging Al-Naimi was replaced as chairman of Saudi Aramco, the world's biggest oil company and oil exporter, in 2015
55.
Alexey Miller
CEO, Gazprom
Runs gas giant state-owned Gazprom, Russia's No. 1 company ($164.6 billion in sales). It helps to know people in high places. In addition to working under President Vladimir Putin in the St. Petersburg mayor's office in the 1990s, he worked alongside Dmitry Medvedev, Russia's PM, in the early aughts. Miller and Gazprom were spared from the U.S. economic sanctions list imposed in the wake of the Ukraine crisis earlier this year.
Indian businessman, founder and owner of Mittal Group
Steel baron Lakshmi Mittal, once India's richest, controls ArcelorMittal, the world's biggest steelmaker, which is battling a global supply glut and rising imports from China. In 2014 Arcelor had reported a net loss of $1.1 billion on revenues of $79.3 billion. The company said it would close down 2 mills in South Africa and is looking to restructure in the U.S. Mittal remains bullish on his home country; in May Arcelor signed a joint venture with state-owned Steel Authority of India to make automotive steel.
Founder and CEO, Baidu
Along with Tencent Holdings and Alibaba Group, Robin Li's search company Baidu is one of the three dominant forces of China's Internet landscape, a trio known as «BAT.» Industry competition and the move from desktop computing to mobile has led Baidu to become more involved in e-commerce, video platforms and linking its online users to offline services such as food delivery and buying tickets to shows and movies. That, in turn, has reduced Baidu's profit margins so far in 2015, but Baidu Chairman Robin Li says that long term the online-to-offline business will grow and become more important. Baidu's iQiyi video website may IPO in Shanghai in 2016.
Self-proclaimed caliph, Islamic State in Iraq and Syria
The self-proclaimed caliph of a largely-theoretical pan-Islamic state, al-Baghdadi weathered relentless airstrikes against ISIS and its many foreign recruits this year. In a remarkably short period of time, al-Baghdadi's ISIS fighters have seized significant portions of eastern Syria and western Iraq, commandeered the planet's attention with a series of barbaric beheadings and earned non-negligible amounts of cash, largely through black-market oil sales said to total $1 million a day. Despite few public appearances, he has held our attention—and that of the people at the very top of this list.
Presidential candidate, United States
The presumptive Democratic front-runner in the 2016 presidential race started her campaign miles ahead of challengers. She faltered but has regained steam over time, putting up a strong front during an 11-hour marathon hearing before the House Select Committee on Benghazi. She is the first and only first lady to become a U.S. senator, not to mention presidential candidate. Her bestselling 2014 memoir, «Hard Choices,» which chronicles her time as secretary of state, reportedly earned her a high-seven-figure advance. Her popularity remains high despite the «emailgate» revelations that she used her own private email address and server while at the State Department instead of the government system, potentially making her correspondence vulnerable to hacking and foreign surveillance. She has said she regretted the decision and complied with government rules.
Chairman and CEO, Dell
Ever since Michael Dell bought out his computer company two years ago, he has been trumpeting the virtues of private ownership. «As a private company, Dell now has the freedom to take a long-term view,» he wrote in a Wall Street Journal op-ed in 2014. «No more pulling R&D and growth investments to make in-quarter numbers. No more having a small group of vocal investors hijack the public perception of our strategy while we're fully focused on building for the future.» In October computer firm Dell made a big to become a much, much bigger private company, agreeing to buy data storage firm EMC for $67 billion. EMC's board approved the merger. Dell will be taking on $40 billion in debt to absorb EMC, Michael Dell started the computer giant in his Texas dorm room in 1984 when he was just 19 with $1,000. Four years later, it went public with a market capitalization of $85 million. By the time he took it private again in 2013, the company was worth $25 billion. He still holds a 70% stake but keeps most of his fortune in his private investment firm MSD Capital, whose wide array of investments includes car deal Asbury Automotive, PVH Corp. (parent to Tommy Hilfiger and Calvin Klein) and DineEquity (operator of IHOP and Applebee's).
Chief Justice, U.S. Supreme Court, United States
Roberts marked his tenth year on the Supreme Court in September, and as chief justice presides over what has been called «most conservative» SCOTUS in generations. And the «most meddlesome.» Roberts was the only conservative justice to uphold the Affordable Care Act in 2012, but he stuck close to the conservative majority in 2014 when Burwell v. Hobby Lobby called into question a for-profit corporation's ability to deny insurance coverage of contraceptives for its employees. The courts new term, which began in October, will see cases on right to work laws, affirmative action and reproductive rights.
CEO, Microsoft
Now in his second year as CEO, Satya Nadella is making strong progress re-establishing the $93.58 billion-in-revenues company as an innovator in tech. The company's new operating system, Windows 10, successfully launched in July; flashy new gadgets like the HoloLens augmented reality goggles made headlines, and new consumer hardware like the Surface Book earned rave reviews.
Chairman and CEO, Blackstone Group
In 1985, Steve Schwarzman, along with partner Pete Peterson, left investment bank Lehman Brothers to start The Blackstone Group, an investment firm with just $400,000 on the balance sheet but large private equity aspirations. Thirty years later, Blackstone is the largest buyout firm on earth, with $333 billion in assets under management and record revenues in 2014 of $7.6 billion. At 68, Schwarzman has shown little sign of slowing down and continues to amass one of the largest fortunes on Wall Street. He took home $570 million in dividends before taxes in 2014 alone. Schwarzman has spent more than $100 million on personal real estate, including a Park Avenue apartment, a villa in Jamaica and palatial estates in the Hamptons, Palm Beach and St. Tropez. The son of a drygoods store owner in a Philadelphia suburb, at age 15 Schwarzman begged his father to expand and open multiple stores, but was rebuffed. An active philanthropist, he pledged a record $150 million to his alma mater Yale in May 2015 to fund a new student commons. He's also given $100 million donations each to a Rhodes Scholar like program with China's Tsinghua University and to the New York Public Library.
CEO, IBM
More than three years have passed since Rometty took the helm at IBM and it's been anything but smooth sailing. With 11 consecutive quarters of revenue declines, IBM is sticking to its focus on boosting profit margins and cultivating growth. Under Rometty the technology giant has been shifting its portfolio of businesses. She has led spending programs for data-analysis software and skills, cloud computing and Watson artificial intelligence technology. At the same time IBM has sold businesses that generated billions in sales but lost money or broke even, including its chip-manufacturing operation and a division that made low-end server computers. Rometty joined IBM at age 24 as a systems engineer in 1981 and became the company's first female CEO in 2012.
65. Bill Clinton
Founder, Bill, Hillary & Chelsea Clinton Foundation
In the nearly 15 years since he left the White House, Bill Clinton has yet to relinquish a role on the global stage. The unusually active ex-prez had been fillings his time with philanthropic ventures and public speaking, but of late he's been stumping for wife Hillary, the presumptive 2016 democratic nominee for President, joking recently that he's «tired of the stranglehold that women have had on the job of presidential spouse» and injecting some much-needed charisma to his wife's campaign. The Bill, Hillary & Chelsea Clinton Foundation's Clinton Global Initiative tackles everything from climate change to HIV/AIDS treatment in the developing world.
CEO, General Motors
Mary Barra survived a harrowing first year as the first woman ever to head a Big 8 automaker last year. She faced revelations about faulty ignition switches blamed for at least 74 deaths and 126 injuries, a 30-million car recall and pressure from investors to return more cash to shareholders. In October the 35-year GM veteran finally got to lay out her strategy for the future, which includes turning Cadillac into a global luxury brand, continuing to grow in China and becoming a technology leader. Under Barra GM is also proving to be more disciplined financially, making tough decisions like pulling out of Russia, Australia and Indonesia or killing the Chevrolet brand in Europe if there's not enough profit to justify continued investment.
Chairman and CEO, LVMH Moet Hennessy Louis Vuitton
Considered one of the world's ultimate taste-makers, Bernard Arnault oversees an empire of 70 brands including Dom Perignon, Bulgari, Louis Vuitton, Fendi and Sephora, as well as 3,700 retail stores, all under the umbrella of $34 billion (sales) luxury goods powerhouse LVMH, where has been CEO since 1989. The bulk of his fortune is tied up in Christian Dior stock, through which Arnault holds a controlling interest in LVMH. He also has billions of dollars in LVMH stock directly, in supermarket chain Carrefour and, most recently, in Hermes, which he got after LVMH agreed in 2014 to relinquish its stake in the rival fashion house and distribute the shares to its shareholders, including to Arnault. He got his start in luxury in 1984 when he paid $15 million to buy a business that included Christian Dior (his family owned a successful construction company at the time). Today his two older children, Delphine and Antoine, are intimately involved in expanding his vision. Antoine chairs high-end Italian knits company Loro Piana and runs shoemaker Berluti. Delphine serves as executive vice president at Louis Vuitton, LVMH's biggest and most profitable brand. He is married to Helene Mercier, a concert pianist, with whom he has three younger children.
Founder, Metalloinvest
Formerly the richest person in Russia, Alisher Usmanov has far-reaching interests in several of his nation's key sectors. Among his holdings are stakes in iron ore and steel giant Metalloinvest, Russia's number two mobile phone operator MegaFon, and Kommersant, the country's largest business daily. He is also a member of governing bodies including the Russian Union of Industrialists and Entrepreneurs. He was awarded the Order for Service to the Fatherland IV in 2013. An early Facebook investor, he sold his shares in 2013 but has said he has a stake in China's e-commerce giant Alibaba, and he invested $500 million in Chinese mobile phone maker Xiaomi. He also owns shares in Arsenal Football Club. In 2014 he sold 12% of his stake in USM Holdings to his old partners and top managers.
Chinese businessman and philanthropist
Wang Jianlin is China's richest man, with tentacles spreading around the world. His fortune more than doubled in the past year following successful public offerings of his real estate firm Dalian Wanda Commercial Properties, which has 125 shopping plazas and 68 five-star hotels, and Wanda Cinema Line, one of China's largest movie theater chains. Wang has spanned the globe in the past year: In January he bought 20% of Spanish soccer team Atletico Madrid and in August he purchased the U.S. organizer of Ironman Triathlons for $650 million. Wang's Dalian Wanda Group purchased U.S. movie theater chain AMC Entertainment Holdings for $2.6 billion in 2012 and took it public in December 2013. Wang's son, Sicong, stirred up controversy about the children of China's billionaires in May when he posted photos on social media of a dog with two Apple watches on its front legs.
Prime Minister of Canada
Trudeau, 43, was elected prime minister of Canada in October, the second-youngest person ever to hold the office. He will takes office in November along with a majority liberal government. The son of popular former prime minister Pierre Trudeau, who held office from 1968 to 1984, his political career began in 2008 when he was elected to the Canadian Parliament. As a young man, he did stints as a snowboarding instructor, nightclub bouncer, rafting guide, actor and camp counselor. Trudeau favors tax cuts for the middle class'saying he would be open to deficit spending to recoup the difference?and action on climate change. He also supports the decriminalization of marijuana, which he said he had smoked as recently as 2010, when he was a member of Parliament. His wife, Sophie Gregoire, is a Canadian television host.
Founder, Icahn Capital Management
Carl Icahn keeps shaking up companies through his brand of activist investing. His investment fund posted strong performance in the first half of 2015, returning 8.4% and rebounding from a down year in 2014. But shares of his publicly-traded investment vehicle, Icahn Enterprises, have tumbled in 2015. Icahn continues to bet big on Apple and still holds some energy investments that have been hit hard by the drop in oil prices. Donald Trump, who is running for the Republican presidential nomination, has suggested he would like Icahn to be U.S. Treasury Secretary in a Trump Administration. After initially rejecting the idea, Icahn warmed up to it and tweeted in August he would accept such an offer. In September Icahn put a video on his website saying he endorses Trump, though he disagrees with him on some issues.
CEO, Dangote Group
Aliko Dangote is Africa's richest man by far, and he's not slowing down. This year alone, his Dangote Cement, Africa's largest cement producer, launched new cement plants in Cameroon, Ethiopia, Zambia and Tanzania. In total, Dangote Cement now produces more than 30 million metric tonnes each year, with a plan to double capacity by 2018. Dangote owns more than 90% of publicly-traded Dangote Cement through a holding company. Other companies in the Dangote Group — which is active in 15 African countries — include publicly-traded salt, sugar and flour manufacturing companies.
Entrepreneur, Personality
Real estate mogul turned presidential hopeful Donald Trump has stunned the political establishment with his sustained popularity in the polls since he announced his candidacy in June. Trump has garnered huge amounts of media attention from around the world. He has stirred controversy, starting with his negative remarks in June about Mexican immigrants and his call to build a wall between Mexico and the U.S. and force Mexico to pay for it. He followed with a plan in August to deport more than 11 million illegal immigrants. Trump alienated some women voters with a critical remark about Republican presidential candidate Carly Fiorina's looks. He insulted Sen. John McCain's military record. Despite such gaffs, he still polls well. Trump and Forbes have disagreed about his net worth for 32 years. In September Forbes put his net worth at $4.5 billion; Trump claims he's worth $10 billion or more, $3 billion of which is the value of his «brand.» Trump admitted to Forbes in September that the magazine had listed his net worth «too high» in the early years on The Forbes 400 list — and that in turn it helped him secure financing.
74. Margaret Chan
Director-General, World Health Organization
Leader of the global health organization responsible for eradicating communicable diseases, including HIV/AIDS, tuberculosis, malaria, and other vaccine-preventable diseases, Chan is widely viewed as having fallen flat in her efforts to combat Ebola. Last year the outbreak in West Africa took the lives more than 10,000 people, while an estimated 26,000 cases were reported around the globe. After issuing a mea culpa for inadequate action, WHO is preparing advanced contingency and intervention plans for possible future epidemics of this magnitude. A University of Western Ontario educated physician and Chinese native, Chan was first elected in 2006 and began a second five-year term in 2012.