Рейтинг мировой элиты по версии Vanity Fair 2015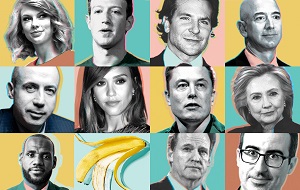 Рейтинг так называемой «новой элиты» составляется редакторами издания, которые учитывают влияние кандидата на отрасль и его достижения. Итоговый список включает лучших представителей из мира масс-медиа, бизнеса, политики и развлечений. «Ни одна компания никогда не достигала масштаба Facebook, который в настоящее время охватывает около 1,5 млрд пользователей», — объясняет свой выбор в этом году редакция Vanity Fair
«Рейтинг мировой элиты по версии Vanity Fair 2015»
FACEBOOK
AGE: 31.
PREVIOUS RANK: 5
MAGIC NUMBER: 4
APPS THAT ZUCKERBERG CONTROLS WITH AT LEAST 300 MILLION USERS (FACEBOOK, INSTAGRAM, WHATSAPP, AND MESSENGER).
THE NEW OLD MEDIA:
No company in history has ever achieved the scale of Facebook, which now reaches nearly 1.5 billion total users. Nor has there ever been a mogul quite like Zuckerberg. He rules, with near omnipotence, over Silicon Valley's grandest empire, and remains eager for more. In May, Facebook announced deals with The New York Times, NBC News, and other news organizations to publish articles directly into users' pages. Facebook has also been reportedly negotiating with record labels while striking deals with content providers, such as HBO, to secure rights to music videos and scripted shows. (The social-media platform has already offered free episodes of Ballers and The Brink.) It wouldn't be a stretch to see Facebook eventually producing its own series, as has been rumored, putting it in direct competition with Netflix and Amazon.
FLIGHT OF FANCY:
Since Facebook's growth seems constrained mainly by the limited number of Internet users around the world, Zuckerberg has endeavored to build a fleet of giant solar-powered drones to beam data into remote parts of Africa, Asia, and Latin America.
UBER
AGE: 39.
PREVIOUS RANK: 9
MAGIC NUMBER: 60
NUMBER OF COUNTRIES IN WHICH UBER OPERATES.
EVIDENCE OF UNICORN EVOLUTION:
Uber is currently valued at around $51 billion, making it the hottest unicorn—as billion-dollar start-ups have come to be known—in a Valley increasingly filled with them. At the same time, the puckish "brogrammer" has matured, too. He's more polished—and modest—in his public appearances, perhaps thanks to the consultation of former White House strategist David Plouffe and former Google executive Rachel Whetstone. (Whetstone, who battled E.U. anti-trust authorities while at the search giant, is also facilitating Uber's European expansion.) "I'm not perfect," Kalanick noted in June. "And neither is this company."
WORLD- DOMINATION WATCH:
Kalanick is already looking ahead to self-driving Ubers. He recently hired dozens of researchers from Carnegie Mellon University's robotics department to help him get there. Meanwhile, recently leaked documents suggest that Uber will go public sometime within the next two years and mint a whole new generation of tech millionaires.
WHAT WILL TECHNOLOGY MAKE OBSOLETE IN FIVE YEARS?
"Parking garages," Kalanick says. "Transportation will be so inexpensive that it will be cheaper than owning a car."
3. JEFF BEZOS
AMAZON
AGE: 51.
PREVIOUS RANK: 4
MAGIC NUMBER: 182 MILLION
MONTHLY VISITORS TO AMAZON.COM.
STUDIO HEAD, TOO?
Now in its 21st year, Amazon has become more valuable than even Walmart. And Bezos continues to be a force in entertainment. Amazon recently signed deals with both Woody Allen and the Top Gear team.
BENEVOLENT OWNER?
Since his purchase of The Washington Post, in 2013, the paper's traffic has soared. In June, its readership climbed to 54.4 million monthly uniques—within striking distance of The New York Times. Two months later, however, the Times posted a searing exposé of Amazon's management practices.
4. TIM COOK & JONATHAN IVE
APPLE
AGES: 54, 48.
PREVIOUS RANK: 3
MAGIC NUMBER: 61 MILLION
NUMBER OF IPHONES SOLD DURING THE FIRST THREE MONTHS OF 2015.
WATCHING IVE:
The release of the Apple Watch presented an opportunity for designer could have settled into the tech 6 ELON something far more mundane: Jonathan Ive to fully assume the creative mantle at the world's most highly valued company. Just weeks after the Watch went on sale, Apple announced that Ive had been promoted to chief design officer. The move struck some as surprising since Ive would no longer directly supervise the design teams that create its gadgets. Nevertheless, the new title gives him a role as the company's product visionary, akin to that of Steve Jobs, while freeing him up to spend more time on the design of Apple's new spaceship-like campus as well as its expanding retail presence.
WATCHING THE WATCH:
Though C.E.O. Tim Cook has been cagey about sales, most analysts expect Apple to sell at least 10 million watches this year, which would be enormous by any standard other than Apple's. To wit: the company reportedly ordered a record 85 to 90 million units of its forthcoming iPhone model, which is said to feature an upgraded screen.
5. SERGEY BRIN & LARRY PAGE
ALPHABET/GOOGLE
AGES: 42, 42.
PREVIOUS RANK: 2
MAGIC NUMBER: $8 BILLION
THE APPROXIMATE INCREASE IN PAGE'S AND BRIN'S NET WORTH ON A SINGLE DAY IN JULY, WHEN GOOGLE REPORTED ITS MOST RECENT QUARTERLY EARNINGS.
EVIDENCE OF BUFFETT-LIKE IMMORTALITY:
Google, with its $66 billion in annual revenue,could have settled into the tech industry's equivalent of middle age. But it refuses to be merely an ad-revenue company. In August, C.E.O. Larry Page announced that he and Brin would be forming a conglomerate, Alphabet, that would oversee their mammoth search business and expanding portfolio of "moon shot" upstarts. The move signaled a shrewdness comparable to other cost-conscious holding companies, such as Berkshire Hathaway. It also suggested an awareness by the founders that investors are increasingly impatient with the spending on Google Glass, Calico, and the newly formed Sidewalk Labs, among others. At the very least, it's clear that Brin and Page want to be associated with future triumphs as much as past ones.
COMRADE-IN-ARMS:
Elon Musk, whom Page huddles with "to talk about kind of crazy things."
6. ELON MUSK
TESLA MOTORS, SPACEX
AGE: 44.
PREVIOUS RANK: 1
MAGIC NUMBER: 20
STUDENTS ENROLLED IN AD ASTRA, A SCHOOL MUSK ORIGINALLY CREATED FOR HIS FIVE SONS.
LATEST RADICAL AMBITION:
Musk has become a geek god for creating both an eco-friendly sports car with a super-fast "ludicrous" mode and a flashy rocket-ship company. But his most ambitious endeavor could actually turn out to be smote batteries. For decades, scientists and engineers have held the notion that a stronger, lighter lithium battery could utterly transform our daily lives. So, naturally, Musk has decided to become the world's largest manufacturer of lithium-ion batteries. In April, he announced that Tesla would begin selling battery packs to consumers and utilities, sending the company's stock price soaring.
EXTRATERRESTRIAL DISRUPTION:
Musk is developing a plan to send thousands of satellites into space to deliver high- speed Internet from the cosmos—a potential threat that Comcast and AT&T probably never saw coming. Eventually, he would like to synch up the planned network with future communications systems on Mars, which Musk has long hoped to help colonize.
7. TED SARANDOS & REED HASTINGS
NETFLIX
AGES: 51, 54.
PREVIOUS RANK: 6
MAGIC NUMBER: $30 MILLION
THE APPROXIMATE PRICE NETFLIX PAID TO DISTRIBUTE BRAD PITT'S MOVIE WAR MACHINE.
EVIDENCE OF VULCAN CHESS MASTERY:
Fifteen years ago, C.E.O. Reed Hastings tried to sell his company to Blockbuster for $50 million. (It passed.) In July, the streaming giant, now worth around $50 billion, surpassed Wall Street's expectations by adding 3 million subscribers, bringing the total to more than 65 million. Netflix's stock price has doubled since the beginning of the year, and the company is now bigger than Viacom.
MORE EVIDENCE OF VULCAN CHESS MASTERY!
This year, Netflix continued its effort to disrupt the original- programming business with Unbreakable Kimmy Schmidt, Daredevil, and 34 Emmy nominations. Sarandos, who made his name picking up shows such as Orange Is the New Black and House of Cards, plans to plow $500 million more into original programming, including a four-movie deal for Adam Sandler as well as War Machine. And yet that could eventually prove to be chump change. Recently, Hastings predicted that terrestrial TV ratings would decline "every year for the next 20 years," while Internet TV would continue to grow.
8. BRIAN CHESKY
AIRBNB
AGE: 34.
PREVIOUS RANK: 21
MAGIC NUMBER: 16 INCHES
THE REPORTED CIRCUMFERENCE OF CHESKY'S BICEPS.
STAGE OF WORLD DOMINATION:
Chesky, a former bodybuilder, is C.E.O. of what is now the world's largest hospitality company. Airbnb rents out one million rooms per night—nearly 300,000 more than the largest traditional hotel chain, InterContinental Hotels Group. (In the last year, the company's business-travel program grew by 700 percent—a phrase you hear only in Silicon Valley.) In June, Chesky was reportedly close to finalizing a round of financing that valued his company at roughly $25 billion and left it with an additional $1.5 billion in cash. "We think we have only scratched the surface of how big the opportunity is," he says.
AND THEN YOUR WORST NIGHTMARE:
This July, one Airbnb guest allegedly found himself held captive and sexually assaulted by his host in Spain. The incident underscored the risks of the sharing economy.
SECRET TO HIS SUCCESS:
In contrast to Uber, Chesky has struck a more conciliatory pose toward regulators. In New York, City Council members recently introduced a bill that would fine Airbnb hosts up to $50,000 each for renting their apartments. Chesky says he expects an eventual compromise, but adds, "I'm not holding my breath."
FACEBOOK
AGE: 46.
PREVIOUS RANK: 12
MAGIC NUMBER: 1.49 BILLION
NUMBER OF MONTHLY FACEBOOK USERS.
STAGE OF GLOBAL CONQUEST:
Under Sandberg, Facebook's user growth continues to defy gravity. But Sandberg's year took a tragic turn this spring, when her husband, Dave Goldberg, died while the couple was vacationing in Mexico. The funeral in May represented the biggest outpouring of grief in Silicon Valley since the death of Steve Jobs—even President Obama offered condolences—and occasioned a striking remembrance that Sandberg posted on Facebook a month afterward.
10. ELIZABETH HOLMES
THERANOS
AGE: 31.
PREVIOUS RANK: NEW
MAGIC NUMBER: $60 BILLION
APPROXIMATE SIZE OF THE U.S. LAB-TESTING MARKET.
"WE WANTED FLYING CARS, INSTEAD WE GOT … ":
In a market overrun with pizza-delivery apps, Holmes has become something of a heroine for starting Theranos, which offers cheaper and less invasive blood testing. Last year, she became the world's youngest self-made female billionaire when Theranos raised money at a $9 billion valuation. This summer, a company test to diagnose herpes won F.D.A. approval.
11. KEVIN FEIGE
MARVEL STUDIOS
AGE: 42.
PREVIOUS RANK: 13
MAGIC NUMBER: $1.4 BILLION
WORLDWIDE GROSS, TO DATE, OF AVENGERS: AGE OF ULTRON.
HIT FACTORY:
It's easy to assume that Marvel's success was a foregone conclusion when Disney acquired the company for $4 billion in 2009. But at the time, its most famous franchises—Spider-Man and X-Men— belonged to other film studios. So Feige, Marvel's creative head, had to mine thousands of second-tier comic-book characters and turn them into tentpole franchises for Disney C.E.O. Bob Iger. It has worked, marvelously: the two Avengers movies have moved $3 billion at the global box office, and Guardians of the Galaxy, starring characters you have never heard of, did nearly $800 million. Even Ant-Man won its opening weekend.
NEW FRONTIERS:
Feige, who cut his teeth in Hollywood working for producer Lauren Shuler Donner on movies such as You've Got Mail, isn't keeping Marvel confined to the big screen. Agents of S.H.I.E.L.D. and Agent Carter have had multiple seasons on ABC, while Daredevil and Powers were well received on Netflix and Sony's Playstation Network, respectively.
12. EVAN SPIEGEL
SNAPCHAT
AGE: 25.
PREVIOUS RANK: 20
MAGIC NUMBER: 100 MILLION
NUMBER OF DAILY SNAPCHAT USERS.
EXPANDING SPHERE OF INFLUENCE:
News junkies love Twitter, baby-boomers use Facebook, but Snapchat enraptures millennials—which explains why investors, presidential candidates, and media companies have become enchanted by the $15 billion disappearing-messaging service and its 25-year-old co-founder. But unlike a number of his contemporaries, Spiegel is interested in creating revenue sooner rather than later. Earlier this year, Snapchat launched a series of advertising products alongside a video-sampling service populated by old-timey media brands.
THE WUNDERKIND BLUES:
Like precocious founders before him, Spiegel can be mercurial. His allies say that he has a tendency to be defensive; media-industry executives often leave meetings baffled about what he means or wants. Earlier this year, Snapchat parted ways with its top ad executive, Mike Randall, as well as C.O.O. Emily White, a former Facebook executive.
13. BEN SILBERMANN
PINTEREST
AGE: 33.
PREVIOUS RANK: 10
MAGIC NUMBER: 2 MILLION
APPROXIMATE NUMBER OF PRODUCTS AVAILABLE FOR PURCHASE ON PINTEREST.
STAGE OF GLOBAL CONQUEST:
This summer, Silbermann announced that the online "pinboard," with 70 million monthly users, would allow select retailers to sell merchandise directly within the app. Analysts think the move could generate big revenues, except for one thing: Pinterest isn't charging for the service, in hopes that e-commerce will attract more advertisers. Do investors care? Have you been to San Francisco lately? In March, the start-up reached "decacorn" status, with a valuation of $11 billion.
14. KEVIN SYSTROM
INSTAGRAM
AGE: 31.
PREVIOUS RANK: 29
MAGIC NUMBER: 70 MILLION
IMAGES AND VIDEOS POSTED EVERY DAY INSTAGRAM USERS.
BOY BEFORE THE BUBBLE:
Had he not sold his photo-sharing service to Facebook for $1 billion in 2012, Systrom would presumably be looking at a valuation in the tens of billions. Nevertheless, the Instagram founder, and current C.E.O., says he has no regrets. In the past few years, after all, the company has become one of the most visited sites in the world and has, perhaps, articulated the most persuasive counter-argument to all the bubble talk. The service recently added tools to help users find "real time" images—long the exclusive domain of Twitter—and is now prepared to see rapid growth in ad revenue. Dick Costolo, the former C.E.O. of Twitter, has reportedly said that missing out on Systrom's company is one of his biggest regrets.
15. AMY SCHUMER
COMEDIAN
AGE: 34.
PREVIOUS RANK: NEW
MAGIC NUMBER: 27 MILLION
TOTAL YOUTUBE STREAMS OF SCHUMER'S WORK.
EVIDENCE OF GENRE DISRUPTION:
As Comedy Central's biggest star in the post-Stewart-and-Colbert era, Schumer, with her disarmingly bawdy humor, has positioned herself as the Tina Fey of the Internet generation. "People are getting tired of pretending to be perfect and are interested in someone more willing to be honest about the fact that we are all gross nightmares," she says. Schumer wrote and starred in the comedy Trainwreck, directed by Judd Apatow, which opened to strong reviews and better-than-expected box-office receipts. Schumer, who recently advocated for harsher gun-control measures with her cousin Senator Chuck Schumer, has also tapped Chris Rock to direct her first HBO stand-up special, which will air this month.
MOST ANTICIPATED NEW TECHNOLOGY:
"A vibrator," Schumer says, "that gives you compliments."
16. MARC ANDREESSEN & BEN HOROWITZ
ANDREESSEN HOROWITZ
AGES: 44, 49.
PREVIOUS RANK: 7
MAGIC NUMBER: $1.5 BILLION
AMOUNT RAISED FROM ANDREESSEN HOROWITZ'S INVESTORS LAST YEAR.
KINGS OF SAND HILL ROAD?
The two venture capitalists have been the talk of the town this year thanks to various magazine articles, a booming business, and some pretty impressive investments in Pinterest, Zenefits, Instacart, and Slack.
BUBBLE TROUBLE:
To some, Andreessen Horowitz's only perplexing position has to do with the larger state of the tech industry. Andreessen, an indefatigable Twitter devotee, has become the Valley's top cheerleader against the existence of a much-feared bubble. ("Where's the kaboom?" notes his profile on the social-media site.) Whether or not we are indeed in a bubble is likely to influence the investors' reputation just as much as their bottom line.
17. JACK MA
ALIBABA
AGE: 50.
PREVIOUS RANK: 8
MAGIC NUMBER: $193 MILLION
PRICE MA PAID FOR HIS HOME IN HONG KONG.
THE RELUCTANT ZILLIONAIRE:
After Alibaba's I.P.O. raised a staggering $25 billion, last fall, its inscrutable founder became one of the world's richest men. Ma, however, seemed conflicted. In June he told a private New York audience, "If I had another life, I would keep my company private," and wistfully recalled his days earning $12 an hour as an English teacher. Meanwhile, investors hope that the flailing Chinese economy won't make them impecunious, too. Alibaba's stock has dropped by 40 percent since late 2014.
18. JACK DORSEY
SQUARE, TWITTER
AGE: 38.
PREVIOUS RANK: 14
MAGIC NUMBER: 3
NUMBER OF TIMES DORSEY HAS HAD LEADERSHIP ROLES AT TWITTER.
DON'T CALL IT A COMEBACK:
The only difference between the Twitter executive offices and Game of Thrones is that the TV series will eventually end. This summer, co-founder Jack Dorsey once again became C.E.O.— albeit interim—after Dick Costolo stepped down. Dorsey's involvement in the company shouldn't be a total surprise. During a meeting earlier this year, the board flat out offered the position to him—"they begged" at one point, said one person present. But Dorsey said that he was committed to running Square. The real reason, according to people close to both companies, was that Square secretly filed to go public in the next 12 to 18 months, and it wouldn't be a good look to enter the markets without the company's chief executive at the helm. Either way, the fate of Dorsey—and Twitter—remains a mystery.
19. UBER CAPITALISTS: BILL GURLEY, MATT COHLER & PETER FENTON
BENCHMARK CAPITAL
AGES: 49, 38, 43.
PREVIOUS RANK: NEW
MAGIC NUMBER: $7 BILLION
BENCHMARK'S REPORTED STAKE IN UBER.
BUBBLE BUSTERS?
As the bubble talk spreads across Silicon Valley, the chief worrywart became Bill Gurley, the longest-serving active partner at Benchmark and an early investor in Twitter, Instagram, and Dropbox. In September, Gurley said that he was seeing an "excessive amount of risk" in the tech sector. Even if he's correct, Benchmark should weather just about any burst.
20. DANIEL EK
SPOTIFY
AGE: 32.
PREVIOUS RANK: 18
MAGIC NUMBER: $8.53 BILLION
SPOTIFY'S MARKET VALUATION.
RIDING HIGH:
"I don't think Spotify has anything to worry about," one veteran music executive noted after the release of Apple's much-ballyhooed service. Just days after the Apple announcement, investors concurred; Spotify—with its 20 million paid subscribers—received a $526 million investment.
21. TONY FADELL
NEST
AGE: 46.
PREVIOUS RANK: 41
MAGIC NUMBER: $3.2 BILLION
THE AMOUNT GOOGLE PAID FOR NEST, FADELL'S "SMART HOME" INVENTION.
THE ONE-MAN UNICORN:
There is a joke in Silicon Valley that Google paid $1 billion for Nest and twice that to "acqui-hire" Fadell. Indeed, many speculate that Brin and Page's decision to create Alphabet was influenced by Fadell's success running Nest as an independent entity.
22. SATYA NADELLA
MICROSOFT
AGE: 48.
PREVIOUS RANK: 11
MAGIC NUMBER: 18,000
NUMBER OF EMPLOYEES MICROSOFT LAID OFF SINCE LAST YEAR.
GOING FULL DADDY WARBUCKS:
Nadella released the latest version of Windows for free; showed off a new futuristic V.R. headset, "HoloLens"; and gobbled up popular productivity apps such as Sunrise and Wunderlist, and the wildly popular game Minecraft.
WHAT TECHNOLOGY WILL BE OBSOLETE IN FIVE YEARS?
"Analog pen," Nadella says.
23. YURI MILNER
INVESTOR
AGE: 53.
PREVIOUS RANK: 25
MAGIC NUMBER: $3.1 BILLION
MILNER'S NET WORTH, ACCORDING TO FORBES.
STAGE OF GLOBAL CONQUEST:
The Russian investor, who made a killing on Facebook and Twitter, has lately been expanding into developing markets. His investment firm DST Global has poured millions of dollars into Xiaomi and Alibaba Group, which have helped nearly double his net worth, even with the deceleration of the Chinese economy.
ALIEN AMBITION:
Already a prolific scientific patron, Milner has pledged to donate $100 million over the next 10 years to the search for extraterrestrial life.
24. CHRIS SACCA
LOWERCASE CAPITAL
AGE: 40.
PREVIOUS RANK: NEW
MAGIC NUMBER: 49,902
NUMBER OF CHARACTERS USED IN SACCA'S EPIC DIATRIBE AGAINST TWITTER'S MANAGEMENT, THIS PAST JUNE.
WATCH OUT FOR THE "UNABOMBER":
Sacca, the founder of Lowercase Capital, has ridden a steady wave of successes into the so-called Three Comma Club—the term, immortalized by HBO's Silicon Valley, that some V.C.'s use to refer to their billion-dollar bank accounts. Sacca was among the first investors in Twitter, Instagram, Stripe, and Uber. But he was nearly evicted from the club this past spring, when his net worth nose-dived along with Twitter's stock. So, Sacca wrote an 8,500-word screed about Twitter, which he followed with an ardent text-messaging campaign. In the end, he got what he wanted: Costolo left, Twitter's stock rose, and Sacca got his third comma back—at least for the moment. He also picked up an intimidating nickname along the way. Twitter's board members have begun calling him "the Unabomber," because he has been so destructive to the company's image.
25. STEWART BUTTERFIELD
SLACK
AGE: 42.
PREVIOUS RANK: NEW
MAGIC NUMBER: $280 MILLION
AMOUNT OF MONEY RAISED IN ONE SIX-MONTH PERIOD.
EVIDENCE OF POSSIBLE FROTHINESS?
Two years ago, the Flickr co-founder helped create Slack, a messaging service that is popular in offices and could someday replace work e-mail. Its investors—including not only Andreessen Horowitz and DST Global but even Jared Leto—recently valued the company at $2.8 billion. "I've been in this industry for 20 years," Butterfield told The New York Times. "This is the best time to raise money ever. It might be the best time for any kind of business in any industry to raise money for all of history, like, since the time of the ancient Egyptians!"
FROM COMMUNISM TO CAPITALISM:
Butterfield was born on a commune in rural British Columbia, without electricity or running water. His given name at birth was Dharma.
PREDICTION ABOUT THE WORLD IN 2020:
"People, he says, "will finally stop asking what your home telephone number is."
26. SAM ALTMAN
Y COMBINATOR
AGE: 30.
PREVIOUS RANK: NEW
MAGIC NUMBER: $65 BILLION
TOTAL VALUE OF THE COMPANIES IN Y COMBINATOR'S INVESTMENT PORTFOLIO.
SO THAT'S HOW THE UNICORNS GET MADE:
Y Combinator, Altman's three-month mentorship program, is widely seen as the fastest way to achieve unicorn status. It invests seed money in fledgling start-ups and was among the earliest supporters of Airbnb, Zenefits, Reddit, and Stripe. "We're the university of the future," Altman says.
PET PROJECT:
Altman has been critical of fellow venture capitalists who warn about a start-up bubble while feeding it. "There are two possible explanations," says Altman, who succeeded co-founder Paul Graham as president of the firm last year. "Either they don't believe what they're saying, or it's because, as a V.C., you only get paid if you invest the capital." In other words, there is only one possible explanation: all that bubble-mongering is pretty profitable.
SO, ARE WE IN A BUBBLE?
"In China," Altman says.
27. SUSAN WOJCICKI
YOUTUBE
AGE: 47.
PREVIOUS RANK: 19
MAGIC NUMBER: 16
WOJCICKI'S EMPLOYEE NUMBER AT GOOGLE.
STAGE OF INDUSTRY CONQUEST:
Wojcicki, who famously rented her garage to Sergey Brin and Larry Page, pushed for the search giant to acquire YouTube in 2006. But even today, with its ever more professional stars and millions of subscribers, YouTube has never delivered on its potential. Last year, Wojcicki took over in an effort to change all that. So far, it's a work in progress, but YouTube's revenue growth has helped bolster Google's more mature search business.
28. JOHN OLIVER
TV HOST
AGE: 38.
PREVIOUS RANK: NEW
MAGIC NUMBER: 18
NUMBER OF MINUTES OLIVER DEVOTED ON HIS HALF-HOUR SHOW TO COMMERCIAL CHICKEN FARMING.
SPHERE OF INFLUENCE:
Oliver has established himself as perhaps the most disruptive journalist on television. Last Week Tonight has managed to build on mentor Jon Stewart's news-as-comedy shtick while producing deeply researched segments on hitherto obscure topics. Oliver's report on net neutrality—net neutrality!— spurred so many e-mails to the F.C.C. that the government agency's online comments page reportedly crashed. After a rant about bail-bond requirements, New York City mayor Bill de Blasio announced that he was easing his policies for low-level offenders. And the ratings are decidedly un-PBS-like. Oliver averages more than four million viewers a week.
29. NICK WOODMAN
GOPRO
AGE: 40.
PREVIOUS RANK: 26
MAGIC NUMBER: $285 MILLION
WOODMAN'S PAY PACKAGE LAST YEAR.
MORE THAN JUST OPTICS:
In 2014, holiday sales records and a blockbuster I.P.O. made Woodman the highest-paid executive in America. But things change fast in technology. Now some investors are worried that GoPro's "action cameras" could become passé as smartphone cameras continue to improve. Woodman has moved quickly to get in front of two hot trends. This spring he announced that GoPro would sell a camera rig to shoot video that can be viewed on virtual-reality devices and that the company would manufacture its own drones.
30. JAN KOUM
WHATSAPP
AGE: 39.
PREVIOUS RANK: 43
MAGIC NUMBER: $7.4 BILLION
KOUM'S NET WORTH, ACCORDING TO FORBES.
DISRUPTING THE TEXT:
When Mark Zuckerberg closed the deal on WhatsApp, last fall, Facebook's stock price had pushed the value of Koum's six-year-old mobile-messaging start-up to roughly $22 billion, despite the company's noticeable paucity of revenue. Zuckerberg has said that he and Koum, a former food-stamp recipient, won't try to make money until the service gets to one billion users. But that should come later this year.
31. JASON BLUM
PRODUCER
AGE: 46.
PREVIOUS RANK: NEW
MAGIC NUMBER: $5 MILLION
BUDGET FOR OUIJA, WHICH GROSSED MORE THAN $100 MILLION WORLDWIDE.
SURPRISE COUP:
Blum's frugality has made him famous in Hollywood. (Ouija, he says, "started out as a $150 million movie and then was put through the Blumhouse System.") But now he's proving to be more than a budgeting genius. Whiplash, which Blum calls "the art-house version of a scary movie," earned him a best-picture nomination; he also won an Emmy for The Normal Heart, the HBO film about the AIDS epidemic.
SEQUEL ALERT:
That said, this fall will mark another edition of his Paranormal Activity franchise. Also on deck: Ouija 2 and The Purge 3.
SHOULD POT BE LEGALIZED?
"Horror movies are better [enjoyed while] high," says Blum.
32. FEDERICO MARCHETTI
YOOX
AGE: 46.
PREVIOUS RANK: NEW
MAGIC NUMBER: $517
AVERAGE COST OF AN ORDER AT NET-A-PORTER, THE E-RETAILER THAT MARCHETTI'S YOOX PLANS TO MERGE WITH.
DISRUPTING RODEO DRIVE:
From his home base in Milan, Italy, Marchetti has quietly built a $1.4-billion-a-year retail powerhouse that includes the online outlet mall Yoox.com, the e-commerce operations for Dolce & Gabbana, Armani, Valentino, and, soon, the luxury Web shop Net-a-Porter. Yoox's specialty is helping luxury brands develop what Marchetti calls "an omni-channel shopping experience"—finding a way to sell their goods online as well as in stores. "We will continue to live in a hybrid world," he adds.
33. JONAH PERETTI
BUZZFEED
AGE: 41.
PREVIOUS RANK: 32
MAGIC NUMBER: $1.5 BILLION
BUZZFEED'S VALUATION.
STAGE OF GLOBAL CONQUEST:
Now that BuzzFeed is the envy of newsrooms everywhere, Peretti is preparing it to become a player in television. As he remarked at the Cannes Lions advertising convention, "It could be that you're watching things that are eight minutes long, or six minutes long, or lots of short-form content." In August, NBCUniversal agreed to invest $200 million in the company, bringing it to full-blown unicorn status.
34. THE VIRTUAL-REALITY DUDES: RONY ABOVITZ; PALMER LUCKEY & BRENDAN IRIBE
MAGIC LEAP; OCULUS VR
AGES: 44; 22, 36.
PREVIOUS RANK: NEW
MAGIC NUMBER: 21
AGE OF OCULUS VR FOUNDER PALMER LUCKEY AT THE TIME OF FACEBOOK'S $2 BILLION ACQUISITION.
PLUGGED IN:
In the coming months, Facebook's big bet on Oculus will get its first test when the virtual-reality headset goes on sale. Meanwhile, Magic Leap, which raised more than $500 million from Google and other investors, is working away at its own futuristic headset from its home base in South Florida. Though the product is still likely years from hitting the market, those who have seen the so-called mixed-reality headset swear it's amazing.
35. SHANE SMITH
VICE
AGE: 45.
PREVIOUS RANK: 22
MAGIC NUMBER: $300,000
COST OF AN INTIMATE DINNER SMITH ENJOYED IN LAS VEGAS THIS YEAR.
CAN SOMEONE PLEASE EXPLAIN WHY VICE IS WORTH ALL THE FUSS?
The tattooed and profane Smith has established Vice, now worth an estimated $4 billion, as the portal through which big media companies believe they must pass to reach a millennial audience. But perhaps the reason behind Vice's appeal is that it's really just an old-school video-production company with a presence in more than 30 countries around the world. Vice has about the same audience size as Vox Media, but it's worth more than four times as much due to its extensive video archive and in-house creative-services studio, Virtue. Deals such as Vice's $100 million joint venture with Rogers Communications in Canada could help Smith deliver the revenue that his investors crave.
36. JESSICA ALBA
HONEST COMPANY
AGE: 34.
PREVIOUS RANK: NEW
MAGIC NUMBER: $200 MILLION
ALBA'S NET WORTH, ACCORDING TO FORBES.
THE UNLIKELY UNICORN:
Honest Company, the actress's consumer-goods outfit, which sells nontoxic products like plant-based diapers and biodegradable dish soap, has been surprisingly formidable, with a valuation of $1 billion and distribution deals with large-scale retailers such as Costco, Target, and Nordstrom. Despite a kerfuffle about her sunscreen line, Alba plans to launch Honest Beauty, a new skin-care-and-cosmetics concern that promises, she says, "a diverse product range for every skin type and tone."
37. DREW HOUSTON
DROPBOX
AGE: 32.
PREVIOUS RANK: 17
MAGIC NUMBER: $10 BILLION
DROPBOX'S VALUATION.
SIGN OF FORTHCOMING TROUBLE:
Dropbox was a front-runner in the online- storage wars, but now the big guns are getting involved. Google, Amazon, and Microsoft are all pouring money into their own cloud- storage offerings. "Most people in the Valley feel like they've squandered their strategic hold," one tech insider says.
GIANT-SLAYING STRATEGY:
Houston has spent the past few years hawking Dropbox for Business, a $15-a-month version of the service that is tailor-made for corporations.
WHAT TECHNOLOGY WILL BE OBSOLETE IN FIVE YEARS?
"Voice mail, hopefully," he says.
38. JARED LETO
ACTOR, INVESTOR
AGE: 43.
PREVIOUS RANK: NEW
MAGIC NUMBER: 9
NUMBER OF UNICORNS THAT LETO INVESTED IN.
EVIDENCE OF TRIPLE- THREAT-DOM:
The Oscar- winning actor and guitarist has also recently become the go-to investor for Valley entrepreneurs hoping to get a movie star involved with their company. Over the past year Leto has backed Reserve, Reddit, Uber, Airbnb, Slack, and Zenefits. "Jared Leto may be best known for his movies, music, and recent Jesus look," says Aaron Levie, C.E.O. of Box, the corporate-cloud company. "But he's one of the savviest tech investors and entrepreneurs around." When Box's I.P.O. was delayed last year, Levie turned to Leto for a pep talk.
39. BILL SIMMONS
THE SPORTS GUY
AGE: 45.
PREVIOUS RANK: NEW
MAGIC NUMBER: 4.6 MILLION
SIMMONS'S FOLLOWERS ON TWITTER.
MR. SIMMONS GOES TO HBO:
Cut loose from his $5-million- a-year ESPN contract, Simmons talked to just about everyone in media as he tried to find a new home, before he landed at HBO in a multi-year, multi-platform arrangement. What is left to negotiate, according to someone close to Simmons, is the written commentary that he is so known for. He's still shopping himself to other outlets to find a home for his column.
40. HUGO BARRA & LEI JUN
XIAOMI
AGES: 38, 45.
PREVIOUS RANK: NEW
MAGIC NUMBER: 1
XIAOMI'S POSITION IN THE CHINESE SMARTPHONE MARKET.
ODD COUPLE:
Two years ago, Barra and Lei seemed like an unusual pair. Barra was a star Google executive, who left the company sometime after his then girlfriend, a colleague, started secretly dating their boss, co-founder Sergey Brin. Lei was the founder and chairman of Xiaomi, a Chinese smartphone-maker that was best known in the West for slavishly copying Apple—all the way down to a proclivity for black shirts, mom jeans, and "one more thing" slides at keynote addresses. Nevertheless, Lei saw in Barra an executive who could help grow Xiaomi into a global force, and perhaps one day surpass the company his idol founded.
COMING TO AMERICA:
Xiaomi currently owns about 18 percent of the Chinese market, and Barra has said that Xiaomi plans to start selling its phones in the U.S. within a few years, bolstered, in all likelihood, by a monster marketing effort and some seriously low prices.
41. PREET BHARARA
FEDERAL PROSECUTOR
AGE: 47.
PREVIOUS RANK: 23
MAGIC NUMBER: 3
NUMBER OF POLITICIANS WHO AS OF JANUARY WERE SAID TO HOLD NEAR-ABSOLUTE POWER IN NEW YORK STATE; BHARARA HAS INDICTED TWO OF THEM.
A DISRUPTER, DISRUPTED:
The prosecutor's rep as a righteous fighter of financial corruption took a hit late last year when a court overturned his conviction of two hedge- fund traders, breaking a celebrated undefeated streak in insider-trading cases and possibly putting other wins in jeopardy. Bharara has been pursuing a sweeping corruption crackdown in New York, where, after publicly tussling with Governor Andrew Cuomo, he indicted the leaders of New York's senate and assembly. "Public corruption is a pervasive problem in New York," Bharara says. "We're going to keep working."
42. THE NARRATORS: ALEX GIBNEY, SARAH KOENIG, ANDREW JARECKI & RANEY ARONSON-RATH
DIRECTOR; SERIAL; DIRECTOR; FRONTLINE
AGES: 61, 46, 52, 45.
PREVIOUS RANK: NEW
MAGIC NUMBER: 97 MILLION
DOWNLOADS OF SERIAL SINCE IT AIRED.
EVIDENCE OF UN-MOGULDOM:
Long-form investigative projects thrived last year. Andrew Jarecki's The Jinx, about real-estate scion Robert Durst, and Alex Gibney's Going Clear, a takedown of Scientology, stood out as breakthrough moments. Raney Aronson-Rath, meanwhile, took over the reins at Frontline from founder David Fanning. But success took some of the players by surprise. The runaway podcast hit Serial, hosted by Sarah Koenig, initially planned to have no more than 300,000 downloads when it was conceived, and the series's producers signed a deal with public-radio favorite MailChimp to be the podcast's sponsor. And then the saga of Adnan Syed and Hae Min Lee became a water-cooler staple—and Serial reached five million downloads faster than any podcast in history, costing the show millions of dollars in lost revenue, which is basically billions in radio terms.
43. DAVID DEWALT & KEVIN MANDIA
FIREEYE
AGES: 51, 44.
PREVIOUS RANK: NEW
MAGIC NUMBER: 41
NUMBER OF PETS AT FIREEYE C.E.O. DEWALT'S BAY AREA HOME, INCLUDING A KUNEKUNE PIG.
BATTLE LINES:
If the wars of the future will be contested in the cloud—by the North Koreans, say, who (allegedly) hacked into Sony Pictures employees' e-mail accounts— then FireEye will sell the weapons. Mandia, who joined as C.O.O. in early 2014 when DeWalt bought the cyber- security company for about $1 billion, personally oversaw Sony's response to last year's debacle. "It's a damn lonely planet if you get hacked," he says. But it is good if you're in the cyber-security software business! Sales were up 69 percent in the first quarter of 2015.
44. PATRICK COLLISON & JOHN COLLISON
STRIPE
AGES: 27, 25.
PREVIOUS RANK: NEW
MAGIC NUMBER: $5 BILLION
STRIPE'S VALUATION.
IRISH EYES ARE SMILING:
The Collison Brothers sounds like the name of a boy band, or maybe an autobody shop based in New Jersey. But it's actually the moniker given to Patrick and John Collison, two Limerick brothers who founded Stripe, which lets people accept payments online. After raising more than $190 million in funding, the company took in another massive round in July, with money coming in from American Express, Visa, and a couple of big V.C. firms.
45. ADAM NEUMANN
WEWORK
AGE: 35.
PREVIOUS RANK: NEW
MAGIC NUMBER: $150 MILLION
WEWORK'S ESTIMATED 2015 REVENUE.
SPHERE OF INFLUENCE:
WeWork, a chain of 50 shared office spaces, saw its value rocket to $10 billion this past spring. The company offers its 30,000 members pay-as-you-go workspaces for as little as $45 a month, including perks such as snacks, beer, yoga classes, and so forth. The company is still small—its 3.5 million square feet of leased space makes it a runt in the commercial real-estate market—and it could lose members in a hurry if another downturn hits. But Neumann, the company's hunky co-founder, has said he plans to add two or three more WeWork locations per month to the ones he's already running.
WHAT TECHNOLOGY DO YOU EXPECT TO SEE IN FIVE YEARS?
"Technology for both life extension and space travel," he says. "WeWork Mars is in our pipeline."
46. MARISSA MAYER
YAHOO
AGE: 40.
PREVIOUS RANK: 15
MAGIC NUMBER: $31 BILLION
THE APPROXIMATE VALUE OF YAHOO'S STAKE IN ALIBABA.
MEDIA FEVER DREAMS:
Three years after Mayer took over the Web pioneer, her attempt to turn it into a thriving media company appears to have fallen flat. Naysayers argue that she has little to show for the flurry of acquisitions, hires, and grand pronouncements. Nevertheless, Mayer is still pushing hard to spend big on content. Earlier this year she re-signed news anchor Katie Couric, bumping her annual salary to $10 million.
EVIDENCE OF A POST-ALIBABA WORLD:
After pressure from investors, Mayer decided to spin off the Alibaba holdings into a separate public company, Aabaco, to go into effect later this year. This would leave a diminished Yahoo at a market valuation of about $6 billion— not even "decacorn" status.
PAGING THE MANAGEMENT CONSULTANTS!
According to author Nicholas Carlson, Mayer addressed employees at an all-hands meeting by reading a children's book, Bobbie Had a Nickel.
47. THE BANSALS: SACHIN BANSAL & BINNY BANSAL
FLIPKART
AGES: 34, 32.
PREVIOUS RANK: NEW
MAGIC NUMBER: $15 BILLION
FLIPKART'S VALUATION.
AN EMBARRASSMENT OF BANSALS:
Amazon may be in India, but the Amazon of India is Flipkart. Founders Sachin and Binny Bansal, who worked together at Bezos's Seattle-based e-marketplace prior to branching out on their own in 2007, aren't actually brothers, however. In fact, the name Bansal is vexingly popular in the Indian tech industry. Flipkart's rival, Snapdeal, was co-founded by Rohit Bansal; the apparel retailer Myntra was co-founded by Mukesh Bansal. Finally, there's LensKart, which was founded by Peyush Bansal.
48. ADI TATARKO
HOUZZ
AGE: 43.
PREVIOUS RANK: NEW
MAGIC NUMBER: 35 MILLION
MONTHLY UNIQUE VISITORS TO THE COMPANY'S HOME-DESIGN SITE.
DISRUPTING THE LIVING ROOM:
Adi Tatarko, the co-founder of the catchily named Houzz, has spent much of the past year hopscotching around the United Kingdom, Australia, Germany, and Japan to expand her upscale home-design e-marketplace. Subsequently, the company's staff has more than doubled, to 550, and its valuation risen to more than $2 billion. Not surprisingly, she's optimistic about its future. The home-improvement and -furnishing markets, she says, "are valued at $1.2 trillion in the U.S. and Europe alone."
49. THE MOBILE STARS: JEROME JARRE, LELE PONS & ANDREW B. BACHELOR
AGES: 25, 19, 27.
PREVIOUS RANK: NEW
DISRUPTING YOUTUBE:
Just as marketers were getting their heads around the idea that YouTube was creating its own stars, a new cohort, specializing in even shorter videos for mobile phones, emerged on Vine, Snapchat, and Instagram. French-born Jerome Jarre, the dramaturge behind a Vine video asking, "Why is everybody afraid of love?," amassed more than seven million followers on the Twitter-owned platform. Then, in a sign of the times, he started appearing on Snapchat. Meanwhile, the biggest Vine star, Andrew "KingBach" Bachelor, has more than 13 million followers and heads up a loose collective of other post–movie stars.
50. MEREDITH PERRY
UBEAM
AGE: 25.
PREVIOUS RANK: NEW
MAGIC NUMBER: $1.7 MILLION
MONEY RAISED FROM MARISSA MAYER AND OTHERS.
DISRUPTING THE … POWER CORD?
uBeam, the company Perry started in her Penn dorm room, uses ultrasonic frequencies to charge your gadgets through the air. Last year, she emerged with a working prototype and raised $10 million more.
EVERYONE'S GOT A WINKLEVOSS:
Perry was sued by her co-founder, Nora Dweck, who claimed to have been cheated out of her share of the company. (The two have since settled.)
ARE WE IN A BUBBLE?
"I like to think real meaningful/ impactful/necessary technology is excluded from these discussions," she says.
1. TAYLOR SWIFT
MUSICIAN
AGE: 25.
PREVIOUS RANK: NEW
MAGIC NUMBER: 6 BILLION
NUMBER OF VIEWS ON SWIFT'S YOUTUBE PAGE.
ARENA OF GLOBAL CONQUEST:
Swift isn't merely the world's favorite pop star, putting up sales numbers that are nearly unfathomable in the post-Napster age—she is also using her platform to make giant companies conform to her will. After pulling her catalogue off Spotify last year, Swift wrote an open letter to Apple asking it to pay artists during the free-trial period of its new music service. She posted the note on Tumblr on a Sunday and the company complied within hours.
2. BOB IGER
THE WALT DISNEY COMPANY
AGE: 64.
PREVIOUS RANK: 2
MAGIC NUMBER: $2 BILLION
THE EXPECTED BOX-OFFICE GROSS OF STAR WARS: THE FORCE AWAKENS.
ACCRETIVE BRILLIANCE:
Iger is on such a world-beating run that Disney's board lured him away from possible retirement and extended his contract through June 2018. Disney's market value, more than $160 billion, has nearly tripled over the past five years, thanks in large part to his acquisitions of Pixar (in 2006), Marvel (in 2009), and Lucasfilm (in 2012). The Pixar and Marvel deals, in particular, continued to bear fruit in 2015. Another Avengers movie topped $1 billion, and the Lucas deal may turn out to be even bigger after the first of three Star Wars films opens, in December.
CORD-CUTTING CLOUDS ON THE HORIZON?
Subscriptions to ESPN, long a crown jewel of the portfolio, dropped in its most recent quarter—an omen for the dawn of the cord-cutting era. The drop prompted a sell-off of not only Disney stock but also those of other media companies.
3. JAMES, RUPERT & LACHLAN MURDOCH
21ST CENTURY FOX, NEWS CORP.
AGES: 42, 84, 44.
PREVIOUS RANK: 1
MAGIC NUMBER: 24 MILLION
VIEWERS FOR THE G.O.P. PRIMARY DEBATE, IN AUGUST, BROADCAST ON FOX NEWS.
STAGE OF SHAKESPEAREAN DRAMA:
In June, Rupert anointed his younger son, James, as the next C.E.O. of 21st Century Fox; he also made his elder, once exiled son, Lachlan, the executive co- chairman—alongside himself—of the film-and- television company as well as News Corp. (Lachlan was already co-chairman of News Corp.) The power-sharing arrangement could lead to a sibling feud, but in the brothers' first earnings call, Lachlan declared otherwise: "It's a true 50-50 partnership," he said.
4. BRIAN ROBERTS & STEVE BURKE
COMCAST
AGES: 57, 56.
PREVIOUS RANK: 3
MAGIC NUMBER: $5.5 BILLION
THRESHOLD CROSSED IN GLOBAL BOX-OFFICE RECEIPTS FOR UNIVERSAL THIS YEAR—AN INDUSTRY RECORD.
OH, NBC:
At first, it looked like a disastrous year for Comcast. Brian Williams's suspension threatened to crater its evening news division; the affable C.E.O. Roberts was thwarted in his company's attempted $45 billion takeover of Time Warner Cable.
SILVER- LINING ALERT!
Remarkably, however, NBC Nightly News has returned to No. 1 while helmed by Lester Holt, and Today is now neck and neck with G.M.A. Under the leadership of Burke, Universal has also had an unprecedented year. Run by Jeff Shell and Ron Meyer, it now leads studios in box-office receipts. Jurassic World has earned more than $1.5 billion worldwide; Minions netted more than $875 million; Trainwreck earned raves and crossed $100 million.
5. RICHARD PLEPLER
HBO
AGE: 56.
PREVIOUS RANK: 17
MAGIC NUMBER: $1 BILLION
AMOUNT THAT ANALYSTS EXPECT THE NETWORK TO SPEND ON PROGRAMMING IN 2015.
STAGE OF GLOBAL CONQUEST:
"There is nothing errant or scary or left to chance," says a rival executive about HBO's chief. Plepler, who sports an Agnelli-like tan year-round, and runs the same stretch of the East River every night, has grown HBO to its highest subscription rate in history, with nearly 120 million paying customers.In an embrace of millennial cord cutters, he recently launched the streaming service HBO Now, which quickly became one of the top-grossing items in Apple's U.S. App Store. And despite competition from Silicon Valley, HBO still has a lock on original programming with a record 126 Emmy nominations— including a few for Silicon Valley.
LATEST COUPS:
After Plepler won the Bill Simmons sweepstakes, he worked out a deal to broadcast the next five seasons of Sesame Street on HBO and its streaming platform.
6. LEBRON JAMES
ATHLETE
AGE: 30.
PREVIOUS RANK: NEW
MAGIC NUMBER: $215 MILLION
THE ESTIMATED ECONOMIC BOOST TO THE CLEVELAND AREA PROVIDED BY JAMES'S RETURN TO THE CAVALIERS, ACCORDING TO BLOOMBERG.
KINGDOM COMEBACK:
Star athletes generally sign long-term contracts to secure future earnings. But James, who enjoyed a well-received supporting role in Trainwreck and recently started a production deal with Warner Bros., is so bankable that he is expected to buck the trend by signing contracts that allow him to opt out every year as the N.B.A. salary cap increases.
7. J. J. ABRAMS
FILMMAKER
AGE: 49.
PREVIOUS RANK: 24
MAGIC NUMBER: $467 MILLION
WORLDWIDE BOX OFFICE FOR INTO DARKNESS, ABRAMS'S MOST RECENT STAR TREK FILM.
STAGE OF GLOBAL CONQUEST:
"Any year in which you tell Harrison Ford what you think Han Solo would do, and then he kindly does it, is about as impossibly surreal a year as you can have," says Abrams. After back-to-back Star Trek successes, Abrams will attempt to please an even more committed geek cohort this Christmas with Star Wars: The Force Awakens. Paramount recently extended its first-look agreement with Abrams's production company, Bad Robot, through July 2018.
8. THE FUNNY GUYS: STEPHEN COLBERT, JAMES CORDEN, JIMMY FALLON, JIMMY KIMMEL, BILL MAHER, SETH MEYERS, TREVOR NOAH, CONAN O'BRIEN & LARRY WILMORE
COMEDIANS
AGES: 51, 37, 40, 47, 59, 41, 31, 52, 53.
PREVIOUS RANK: 15
MAGIC NUMBER: 27
PERCENTAGE INCREASE IN TOTAL VIEWERS FOR THE TONIGHT SHOW SINCE FALLON TOOK OVER.
STAGE OF GLOBAL CONQUEST:
Late-night television is fully transcending the actual living room. Fallon is the current leader, with more than 3.5 million nightly television viewers and more than seven million YouTube subscribers. Kimmel is right behind, with around 2.7 million TV viewers and more than six million YouTube subscribers. The big question is whether Colbert's Late Show, in which he plays himself, will translate to a broader audience, too.
UBER OR LYFT:
"Uber," says Kimmel. "It's like a limo ride with just a hint of kidnapping."
POLITICIAN
AGE: 67.
PREVIOUS RANK: 9
MAGIC NUMBER: $2.5 BILLION
AMOUNT THAT CLINTON'S CAMPAIGN HOPES TO RAISE.
HILLARY VS. HILLARY:
Given that her most serious threats for the presidency are currently a self-proclaimed socialist, Bernie Sanders, and Donald Trump, Clinton's biggest obstacle remains herself. After she turned over her server and 55,000 pages of e-mails to the State Department, potential leaks could become increasingly damaging—perhaps inviting that Biden run.
10. LEE DANIELS
DIRECTOR, PRODUCER
AGE: 55.
PREVIOUS RANK: NEW
MAGIC NUMBER: 16.7 MILLION
AVERAGE WEEKLY AUDIENCE FOR EMPIRE, THIS YEAR'S TOP-RATED NEW TV SERIES.
PRIME-TIME PLATINUM:
Empire, Daniels's prime-time hip-hop soap ("Black Dynasty," as he puts it), was one of the biggest shows on television during its inaugural season, thanks to an impressive cast and Daniels's eye for character—especially the fabulously fearsome Cookie Lyon, played by Taraji P. Henson. "There is something completely relatable with this badass woman who also has a heart of gold," says Daniels, the acclaimed director (The Butler, Precious) who recently signed a multi-year deal with 20th Century Fox that allows him to write, direct, and develop new prime-time shows.
11. DAVID ZASLAV
DISCOVERY COMMUNICATIONS
AGE: 55.
PREVIOUS RANK: 7
MAGIC NUMBER: $156 MILLION
HIS 2014 COMPENSATION.
MOGUL BURN:
"Every device and every wire is really a dumb pipe," says the longtime Discovery boss, referring to possible threats posed by relative TV newcomers such as Netflix and YouTube. "None of those come to life without great content. We have that." The value of Discovery's portfolio—which includes Discovery Channel, TLC, Oprah Winfrey's OWN, and the rights to carry the Olympics through 2024 in Europe—has climbed from about $6 billion in 2007, when Zaslav took over, to around $30 billion today.
12. KANYE WEST & KIM KARDASHIAN
MUSICIAN; REALITY-TV STAR
AGE: 38, 34.
PREVIOUS RANK: NEW
MAGIC NUMBER: $28 MILLION
KIM KARDASHIAN'S ESTIMATED 2014 EARNINGS.
STAGE OF GLOBAL CONQUEST:
The West-Kardashian coupling represents a strong argument in favor of corporate synergy. West gives Kardashian artistic legitimacy, and the reality star and spokesperson offers her acclaimed yet famously difficult rapper husband something bordering on broad appeal. Kardashian's new book, Selfish, earned what seemed like genuine praise—at least in a Warholian way—from some book critics. West is currently recording his next album, under the working title Swish, which reportedly includes collaborations with Paul McCartney and Bruno Mars. It promises to be even more Spotify-friendly than his critically beloved Yeezus.
CAN'T STOP THE HUSTLE:
Kardashian and West also demonstrated a well-honed alacrity for entering new industries. Kardashian authorized her likeness to an app developer in a deal that could pay her up to $85 million. West, who is moving further into the fashion business, recently released his latest collaboration with Adidas, the Yeezy Boost 350, a limited edition that fetched up to $10,000 on eBay from eager sneakerheads.
13. ROGER GOODELL
NATIONAL FOOTBALL LEAGUE
AGE: 56.
PREVIOUS RANK: 8
MAGIC NUMBER: $105 MILLION
GROSS COMPENSATION DURING ONE FIVE-YEAR PERIOD AS COMMISSIONER.
MAN IN THE ARENA:
Despite the endless saga of Deflategate, football games sell advertisements like nothing else. This spring, Goodell got Yahoo to pay a reported $20 million for the right to live-stream a 9:30 A.M. E.S.T. game between the lowly Buffalo Bills and the Jacksonville Jaguars, to be played in London.
14. D.B. WEISS & DAVID BENIOFF
GAME OF THRONES
AGE: 44.
PREVIOUS RANK: NEW
MAGIC NUMBER: 2.2 MILLION
NUMBER OF TIMES A SINGLE EPISODE OF THRONES WAS ILLEGALLY DOWNLOADED IN 12 HOURS DURING LAST SEASON.
LATEST SIGN OF INVINCIBILITY:
On-screen violence—especially the rape of perpetually tormented Sansa Stark—led to a public outcry. (Senator Claire McCaskill called for a boycott.) But none of that stopped the most popular show in HBO's history, which has earned 24 Emmy nominations, from breaking its own ratings records and wooing fans to HBO Now. The network has invited creators Benioff and Weiss to make three more seasons—and perhaps even a prequel.
15. MARC BENIOFF
SALESFORCE
AGE: 50.
PREVIOUS RANK: 23
MAGIC NUMBER: $40 MILLION
COMPENSATION FOR FISCAL YEAR 2015.
MAKING IT RAIN:
Benioff, the billionaire founder of Salesforce, has positioned himself as the tech world's moral conscience. In March, after Indiana's governor signed the anti-gay Religious Freedom Restoration Act, Benioff tweeted that he was pulling all Salesforce business from the state. (The law was subsequently changed, and Salesforce dropped its boycott.) The following month, he announced that Salesforce was reviewing the salaries of its female employees to ensure that they were being fairly compensated. He's been able to push for all the do-gooder stuff, perhaps, because he continues to line his shareholders' pockets. "He's the closest thing the Bay Area has to Mike Bloomberg," says one notable tech investor.
16. MICHAEL RAPINO
LIVE NATION
AGE: 50.
PREVIOUS RANK: 21
MAGIC NUMBER: 450 MILLION
TOTAL NUMBER OF TICKETS SOLD IN 2014.
SPHERE OF INFLUENCE:
In the Internet Age, concerts are the main way musicians make money, and Rapino dominates that business. Live Nation represented more than 23,000 shows last year. He also signed a long-term contract with Yahoo to stream concerts and struck similar deals with Snapchat and Vice.
COURTING THE UNWASHED MASSES:
During the past year, Live Nation has acquired controlling stakes in Bonnaroo and Lollapalooza.
17. LEE JAE-YONG
SAMSUNG
AGE: 47.
PREVIOUS RANK: 11
MAGIC NUMBER: 83 MILLION
NUMBER OF SMARTPHONES SAMSUNG REPORTEDLY SHIPPED IN THE FIRST QUARTER OF 2015.
REAL-LIFE GAME OF THRONES:
Samsung's longtime dauphin has consolidated power at the family-controlled conglomerate in the wake of the hospitalization of his father, Lee Kun-hee. Samsung, which makes far less money per phone than Apple, could use a little youthful vigor. The company's market share is falling, squeezed by growing demand for Xiaomi's ultra- affordable handsets in China and Apple's ultra-premium ones everywhere else.
18. BRADLEY COOPER
ACTOR
AGE: 40.
PREVIOUS RANK: NEW
MAGIC NUMBER: $547 MILLION
WORLDWIDE BOX- OFFICE GROSS OF AMERICAN SNIPER.
SECRET AMBITION:
While Cooper has been busy on Broadway (The Elephant Man) and on-camera (this month's drama/comedy Burnt, and Joy, in December, which will re-unite him with David O. Russell and Jennifer Lawrence), he's also been building an impressive portfolio as a producer. He and business partner Todd Phillips have a first-look deal with Warner Bros. Pictures, and are serving as executive producers for the CBS thriller Limitless and Syfy's forthcoming Hyperion. (He also pulled off a hysterical turn as a zoot-suit-wearing theater- loving counselor in Netflix's new prequel to Wet Hot American Summer.) But insiders speculate that the actor would like to follow the model of his Sniper director, Clint Eastwood, and make his own debut behind the camera with the studio. He's in talks to remake A Star Is Born.
19. REID HOFFMAN & JEFF WEINER
LINKEDIN
AGES: 48, 45.
PREVIOUS RANK: 16
MAGIC NUMBER: 380 MILLION
APPROXIMATE WORLDWIDE USERS.
C-SUITE TURNAROUND:
While Hoffman has remained ensconced in his main role as a savvy investor at Greylock Partners, the V.C. firm, Weiner has drawn criticism for a falling stock price. But LinkedIn has other tricks up its sleeve, such as its $1.5 billion purchase of online education company Lynda.com. "We have a very clear road map," Weiner told Fortune.
WHAT TECHNOLOGY DO YOU EXPECT TO SEE IN FIVE YEARS?
"Sensors," says Weiner. "In your clothes, on your wrist, in your car, in your home."
20. LOWELL MCADAM
VERIZON
AGE: 61.
PREVIOUS RANK: NEW
MAGIC NUMBER: $4.4 BILLION
THE PRICE VERIZON PAID TO BUY AOL.
EMPIRE BUILDING:
The longtime telecom executive with a reliable cell-phone network, and a public persona as dynamic as a phone book, seems poised to turn Verizon into an unlikely media giant. His AOL acquisition gives the company control over fast-growing advertising technologies and the Huffington Post. And thanks to a renewed contract, he'll also have the services of its founder, Arianna Huffington. (As The New York Times noted this summer, Huffington rebuffed an attempt to relegate her to a ceremonial role—an effort dubbed "the popemobile.") Meanwhile, McAdam is said to be building a wireless pay-TV service.
PUBLIC FEUD:
McAdam picked a fight with Disney by launching a low-cost version of Verizon's FiOS TV service that left ESPN out of its "skinny bundle" base package. If Verizon prevails in the resulting lawsuit, it could help permanently dent ESPN's power while spelling the end of traditional cable bundles.
21. JAY Z & BEYONCÉ
MUSICIANS
AGES: 45, 34.
PREVIOUS RANK: 5
MAGIC NUMBER: $115 MILLION, $60 MILLION
BEYONCÉ'S AND JAY Z'S 2014 EARNINGS, RESPECTIVELY.
HAVING IT ALL
After a year filled with rumors about their marriage, and in which Beyoncé earned nearly double her husband's income, Jay Z has struggled of late to pull his share in this dynastic power couple. His would-be Spotify competitor, Tidal, which he helped purchase for $56 million and then relaunched with Beyoncé and a bevy of famous partners, has been beset by turmoil, including two departed C.E.O.'s and a $50 million lawsuit.
TOKEN VANITY PROJECT:
In February, the couple helped introduce 22 Days Nutrition, a vegan-diet meal-delivery service that will compete in the same space as Plated, Hello Fresh, and even the newly minted unicorn Blue Apron.
22. BILL ACKMAN
PERSHING SQUARE CAPITAL MANAGEMENT
AGE: 49.
PREVIOUS RANK: NEW
MAGIC NUMBER: $20 BILLION
PERSHING'S CAPITAL UNDER MANAGEMENT.
BIG BOLD MOVE:
Last year— and try to stay with us here— Ackman teamed up with Valeant, a highly acquisitive drug company, while also buying stakes in Allergan, the maker of Botox; then Valeant (and Ackman) made a bid for … Allergan, whose shares had since skyrocketed and made a fortune for, yes, Ackman. The best part is that, in the end, even though the deal fell through, Ackman still walked away with around $2.6 billion in profit. More recently, he has turned his scrutiny on Mondele ̄z International, the maker of Oreos and Ritz Crackers.
TENNIS, ANYONE?
The longtime enthusiast is reportedly planning to build a private court atop his new office on the far West Side of Manhattan.
23. MARGRETHE VESTAGER
E.U. COMPETITION COMMISSIONER
AGE: 47.
PREVIOUS RANK: NEW
MAGIC NUMBER: 116,000
NUMBER OF TWITTER FOLLOWERS, AN UNOFFICIAL RECORD FOR A DANISH ECONOMICS MINISTER.
EVIDENCE OF EUROPEAN SCOURGE-DOM:
Vestager, who inspired a character on Borgen, the Nordic West Wing, has taken on a number of corporate giants. None was bigger than Google, against which she leveled formal anti-trust charges in April, for trying to boost its other, less dominant businesses.
HOLLYWOOD, YOU'RE UP NEXT:
In July, she opened an anti-trust case against six major studios over their exclusive licensing deals with Sky UK.
24. IRVING AZOFF
AZOFF MSG ENTERTAINMENT
AGE: 67.
PREVIOUS RANK: NEW
MAGIC NUMBER: $145 MILLION
TICKET SALES BY THE EAGLES, AZOFF'S LONGTIME CLIENT, DURING THE FIRST YEAR OF THEIR CURRENT TOUR.
LATEST DUSTUP:
Azoff, who resigned abruptly from Live Nation in 2012, made news in late 2014 when his company threatened to sue YouTube for $1 billion on behalf of his clients—Pharrell Williams and Bruno Mars, among others—unless the online-video giant agrees to directly negotiate with artists for streaming rights. "We've changed the fucking business," he says. "It's about being disruptive in a positive way."
25. MEGYN KELLY
BROADCASTER
AGE: 44.
PREVIOUS RANK: NEW
MAGIC NUMBER: 3.1 MILLION
VIEWERS FOR KELLY'S INTERVIEW WITH THE DUGGAR FAMILY, THE FALLEN REALITY-TV STARS.
STAGE OF RIGHT-WING DISRUPTION:
The former litigator scolded Senator Rand Paul for arguing with female reporters and told Dick Cheney he "got it wrong" on Iraq. And many pundits agree that it was Kelly—not the candidates—who won the first G.O.P. primary debate. Donald Trump's subsequent vexation with her tough questions only underscored her success. "If everybody is talking about you, there's something to it," said one rival news executive. Kelly's contract reportedly expires in 2017.
Read more: http://www.vanityfair.com/news/photos/2015/09/new-establishment-list-2015