Самые высокооплачиваемые звезды мира – 2015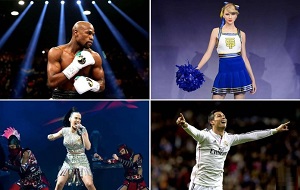 Американский Forbes в понедельник, 29 июня, обнародовал 17-й ежегодный рейтинг самых высокооплачиваемых звезд мира. Оценка Forbes складывается из доходов знаменитостей от основной работы, рекламных доходов и доходов от собственных бизнес-начинаний.
«Темы»
«Самые высокооплачиваемые звезды мира – 2015»
1. Floyd Mayweather Jr.
Earnings: $300M
Athlete, Boxing
Mayweather's $300 million year shatters the record for athlete earnings, which was previously held by Tiger Woods who banked $115 million in 2008. Mayweather's May 2 fight against Manny Pacquiao crushed multiple boxing financial records, including PPV buys (4.4 million), total gate ($73 million) and sponsorships ($13 million). The fight is expected to gross more than $600 million once everything is counted. Mayweather has typically shunned endorsement deals, but inked agreements with Hublot, FanDuel and Burger King ahead of the May fight. The Pacquiao fight marked the fifth bout in the blockbuster 30-month, six fight deal he signed with Showtime in 2013. Mayweather, whose record stands at 48-0, plans to fight in September to complete his Showtime deal and then retire.
2. Manny Pacquiao
Earnings: $160M
Athlete, Boxing
Pacquiao's $125 million payday for his bout against Floyd Mayweather was four times his previous high for a boxing match (Pacman's boxing earnings also include $23 million for his November fight against Chris Algieri). Pacquiao boosted his income further through endorsement deals with Nike, Foot Locker, Wonderful Pistachios, Nestle's Butterfinger and a handful in the Philippines. The pugilist and Filipino Congressman is sidelined for the rest of 2015 after shoulder surgery to repair a torn rotator cuff.
3. Katy Perry
Earnings: $135M
Musician
The «Roar» singer is the highest-earning non-boxer on this year's Celebrity 100 list, thanks mostly to her Prismatic World Tour. During our scoring period, Perry grossed more than $2 million per city over the course of 126 shows—75 of them overseas—while pulling in an astounding $20 per head in merchandise sales. She also pads her coffers through deals with Coty, Claire's and Covergirl, and from a new Perry-themed mobile game due out this fall.
4. One Direction
Earnings: $130M
Musicians
The world's biggest boy band is also its biggest band of any sort, at least when it comes to earnings over the past year. With 74 dates during our scoring period—and seven-figure grosses at every stop—One Direction's payday is more than twice as high as that of the Rolling Stones. Look for that trend to continue even without recently departed bandmember Zayn Malik.
5. Howard Stern
Earnings: $95M
Personality, Radio
The off-beat, and often off-color, Howard Stern has yet to signal where he'll be on air next year. His contract negotiations—dispute, really—with Sirius XM Radio continue. At stake, an eight-digit payday for Stern and the loss of a main attraction for Sirius XM. Stern's part nasty, part pervy shtick has made him radio royalty in America, his F-bombs and prickliness delighting the nation during rush hour for nearly three decades. Not just a voice on the airwaves anymore, Stern has co-hosted «America's Got Talent» since 2012.
6. Garth Brooks
Earnings: $90M
Musician
The country legend finally returned to the stage from semi-retirement to launch a long-promised concert tour, and the results have been staggering. Brooks has been grossing well over $1 million at every stop, partly because he's been playing back-to-back shows in the same arena on the same night. He'll continue touring at least through the summer, lining him up for a spot on next year's Celebrity 100 as well.
Earnings: $89M
Author
James Patterson continues to earn more than any other author in publishing. He is also its busiest penman, churning out some 16 books a year with the help of coauthors. Writer of the «Alex Cross» and «Michael Bennett» series, Patterson has sold more than 300 million copies since his 1976 debut. Though best known for adult crime thrillers and airport book store fodder, Patterson also boasts more New York Times best sellers for children than any other living author, with some 30 million youth novels sold. Concerned about child literacy, in 2015 Patterson announced he was launching a children's book imprint that would publish eight to 12 kids books a year. Patterson last year donated over $1 million in grants to independent bookstores and is now giving more than $1.5 million to school libraries across the States. CBS has also signed on to turn two of his books, «Zoo» and «The Thomas Berryman Number,» into TV shows.
8. Robert Downey Jr.
Earnings: $80M
Actor
Iron Man Robert Downey Jr.'s earnings continue to skyrocket thanks to his roles in «Avengers: Age of Ultron» and the forthcoming «Captain America: Civil War,» for which he is commanding a reported $40 million. This year, Downey made more than any other actor and recorded his highest ever annual payday. A large portion of his $80 million paycheck comes from the backend of «Avengers: Age of Ultron,» which grossed $1.4 billion at the box office. Though Marvel has been accused of penny pinching when it comes to paying its stars, Downey has leveraged his Iron Man role into a bulletproof position in which the Disney-owned studio must give him a favorable deal on any movie the character appears in.
9. Taylor Swift
Earnings: $80M
Musician
The singer-songwriter completed her transition from country starlet to pop superstar with the launch of album 1989, the top release of 2014 with over 3.6 million copies sold—making her one of only three artists with a platinum album last year. That new state of affairs is partly due to the rise of streaming, a distribution system of which Swift has become one of the most outspoken critics, pulling her music from Spotify in November and forcing Apple in June to pay artists during their service's free trial period.
10. Cristiano Ronaldo
Earnings: $79.5M
Athlete, Soccer
The three-time and reigning FIFA best player in the world has scored 60 or more goals in each of the last four calendar years and averages a goal a game for his club Real Madrid. He has a $50+ million a year salary (with bonuses) through 2018 to show for it. He's also the world's most popular athlete, with 102 million Facebook and 35 million Twitter followers. His commercially good looks have landed him mega sponsorships with Nike and his own underwear and shirt line CR7.
11. Rush Limbaugh
Earnings: $79M
Personality, Radio
Rush Limbaugh's talk show remains one of conservative America's favorite programs—broadcast through 625 affiliates across the continent to an audience of 20 million. Never one to dull listeners, he delights in a savage ultrapatriotism that more often than not puts liberals directly in its cross hairs. (Last year, he threatened to sue the Democratic Congressional Campaign Committee, a powerful leftist political machine.) He has embraced a get-'em-while-they're-young mentality in his new sideline: a children's book series. Its main character? Time-traveler Rush Revere and trusty, talking steed Liberty. The pair bounces around colonial America, meeting the original patriots.
12. Ellen DeGeneres
Earnings: $75M
Personality, Television
TV's best-paid personality is branching out. The Queen of Daytime is also a prolific producer; her Very Good Productions has five shows on the air, and a show based on Dr. Seuss' «Green Eggs and Ham» in development at Netflix. DeGeneres has long been savvy about where and how TV viewers are watching, capitalizing on the power of YouTube years ago. More recently, she developed her own website devoted to video, «ellentube,» and struck a deal with Vessel, which allows viewer to stream clips of her show. Heads Up!, the game she played with guests on her show then turned into an iPhone app, was the best-selling paid app of 2014 (it's also being turned into its own TV show). DeGeneres is taking the Ellen brand in new directions this year with her first women's clothing line, ED by Ellen, expected to hit stores this summer. A forthcoming book on interior design will complete her transition from media mogul to lifestyle guru.
13. Lionel Messi
Earnings: $74M
Athlete, Soccer
In 2014, Barcelona awarded their record four-time FIFA player of the year with a $9 million a year raise in his 7th contract since 2005 to bring his take home pay to $50 million a year through 2018. The Argentine holds records for most goals in Barca competitions, most goals in La Liga competitions, most goals scored in a calendar year and most hat tricks scored. His superhuman talent is why sponsor Samsung cast him as superhero Iron Man in their ad to promote the Avengers film. It's also why his main sponsor Adidas launched a Messi icon line of shoes and apparel which has exceeded company sales expectations, including in the U.S.
14. The Eagles
Earnings: $73.5M
Musicians
Though the classic rock band hasn't had a no. 1 single in ages, The Eagles are still alive and well on the tour circuit. The 57 shows they played during our scoring period, part of the History of the Eagles tour, helped propel them to the No. 14 spot on this year's Celebrity 100 list, beating out many younger names like Justin Timberlake and Lady Gaga. Thanks to their devoted fan base, The Eagles also earned millions from merchandise and DVD sales.
15. Dr. Phil McGraw
Earnings: $70M
Personality, Television
In addition to hosting his eponymous show, Dr. Phil McGraw published his 13th book in 2015. «The 20/20 Diet: Turn Your Weight Loss Vision Into Reality» sold over 51,000 copies in its first week and made the New York Times bestsellers list. Oprah Winfrey's earliest protege is also going digital: Dr. Phil helped launch an app called Doctor on Demand, which connects users with a network of psychologists in the U.S. for 25- or 50-minutes sessions ranging in price. Dr. Phil, with son Jay McGraw and cofounder Adam Jackson, raised $24 million from the likes of venture firm Andreessen Horowitz and investor Richard Branson for the app.
16. Roger Federer
Earnings: $67M
Athlete, Tennis
After seeing his world ranking drop to No. 7 in 2013, Federer rebounded last year and finished the year ranked second. He continues to be among the world's best players 17 years after he turned pro. He holds the records for most singles Grand Slam wins (17) and career prize money ($90 million). He appeared in a staggering 18 out of 19 Grand Slam finals between 2005 and 2010. His endorsement portfolio is filled with long-term deals with blue-chip companies like Nike, Rolex and Credit Suisse. He extended his Mercedes-Benz deal at the end of 2014 for another three years. His sponsors collectively pay him more than $40 million annually. The latest addition is a five-year pact with Sunrise, the largest private telecommunications provider in Switzerland.
17. Calvin Harris
Earnings: $66M
Musician
The Scottish DJ solidified his ascent in mainstream culture by capturing the heart of pop music icon Taylor Swift. The pair are now dating, creating perhaps the most powerful music power couple this side of Jay Z and Beyonce. Love life aside, Harris has had a pretty good year at the office and is once again the world's highest-paid electronic dance music artist. While he played fewer shows than last year, he's seen a rise in club and festival fees prop up his earning total. He also has seven-figure endorsements with the likes of Giorgio Armani, which made Harris its newest face for its men's underwear line. A rare artist who writes, performs and produces his own tracks, he released «Motion» last October with collaborations from the likes of Gwen Stefani and Big Sean.
18. LeBron James
Earnings: $65M
Athlete, NBA
James is the first NBA player to appear in five straight NBA Finals since the Boston Celtics dynasty of the 1960s. The NBA's four-time MVP returned to Cleveland in July 2014 when he signed a two-year, $42.1 million contract after four seasons in Miami. James inked the shorter deal, instead of a richer four-year pact, so he could be a free agent again in 2016 when the NBA's new $24 billion TV deals kick in and sends the salary cap soaring. The NBA's top pitchman added Kia Motors to his endorsement portfolio, which already included Nike, McDonald's, Coca-Cola, Samsung, Beats by Dre, Upper Deck, Tencent and Audemars Piguet. Sales of his signature Nike shoes were tops among active players at $340 million in the U.S. during 2014, according to research firm SportsOneSource. His Cavs jersey was also the NBA's best-seller.
19. Justin Timberlake
Earnings: $63.5M
Musician
Timberlake is no newcomer to high earnings, having brought in millions ever since his 'NSYNC days. But now the «Mirror» artist—who is still primarily a musician, playing 59 tour dates during our scoring period—also earns big from endorsements deals with the likes of Bud Light and Sony, as well as his own Sauza tequila.
20. David Copperfield
Earnings: $63M
Magician
Known for tricks such as making the Statue of Liberty disappear, illusionist David Copperfield is still the most prominent name in magic today. He's won 21 Emmys and boasts 11 Guinness World Records, including selling more tickets than any other solo entertainer — Michael Jackson and Elvis included. He earns his money performing at the MGM Grand in Las Vegas, where he hosts a residency show. Fittingly, Copperfield owns the world's largest collection of magic artifacts.
21. Sean Combs
Earnings: $60M
Musician
Though he rarely performs these days, Diddy rakes in cash from non-musical ventures including his stakes in TV network Revolt, clothing line Sean John, alkaline water brand Aquahydrate and tequila DeLeon. It's his outrageously lucrative deal with Diageo's Ciroc vodka, however, that accounts for the bulk of his bucks.
22. Gordon Ramsay
Earnings: $60M
Personality, Television
No celebrity chef has ever earned more than Gordon Ramsay. His big payday comes from his starring role on three hit Fox shows, «Hell's Kitchen,» «MasterChef» and «MasterChef Junior.» With the curtain falling on «American Idol» this year, he's the only thing Fox's non-scripted slate has going for it. Those network shows are the perfect advertising for his food empire, 25 restaurants strong (with 7 Michelin stars) and ever growing.
23. Ryan Seacrest
Earnings: $60M
Personality, Television and Radio
Ryan Seacrest faces a bittersweet moment in the next year as the curtain falls on «American Idol,» the 15-seasons-long singing competition that cemented his place as America's emcee. He introduced the nation to now-famous artists (Kelly Clarkson, Carrie Underwood) and charmed prime-time audiences with good looks and an easy showmanship that nicely complemented the uneven charisma of the series' judging panel. It'll mean an estimated $15 million dent in his earnings, but it's not a complete over-and-out from Seacrest. He'll continue to host his morning radio show with its pleasing mix of celebrity interviews, gags and call-in oddities.
24. Fleetwood Mac
Earnings: $59.5M
Musicians
Though the band may have achieved the height of its popularity in the 1980s, it's not slowing down, particularly in terms of making money. The group's On With the Show tour included 86 concerts during our scoring period and boasted the highest average secondary ticket price of the year at over $300.
25. Lady Gaga
Earnings: $59M
Musician
Since rising to mainstream fame in the late 2000s, Gaga has remained one of the biggest names in the music industry, pushing limits with her over-the-top performances and fashion choices. She used both her famous voice and style to make her millions this past year: Besides playing 66 shows during our scoring period, Gaga cashed in from deals with Versace and MAC, as well as her own Fame fragrance.
26. Rolling Stones
Earnings: $57.5M
Musicians
After more than half a century together, the Stones are still rocking—and cashing in, thanks to their latest tour, which winds down in July. Though Mick, Keith and friends only played 22 shows in our scoring period, their reputation and the fact that most of their venues are stadiums enables them to earn the same amount as Ed Sheeran, who performed seven times as many dates.
27. Ed Sheeran
Earnings: $57M
Musician
Ever since he caught the attention of Jamie Foxx and Elton John, this British singer-songwriter's career has been on the upswing. His latest album received a Grammy nomination for Album of the Year, part of the reason he's among the handful of acts who still make double-digit millions on recorded music. He also played 154 shows during our scoring period, more than any musician on this year's Celebrity 100.
28. Jay Z
Earnings: $56M
Musician
His 22 shows with wife Beyoncé boosted the multifaceted mogul's bottom line, which includes a diverse range of moneymaking ventures. Jay Z's portfolio continues to grow thanks to assets such as entertainment company Roc Nation and Armand de Brignac champagne. The impact of his new streaming service, Tidal—which counts Celeb 100 listmates Beyoncé and Jason Aldean as co-owners—remains to be seen.
29. Beyoncé
Earnings: $54.5M
Musician
The «Drunk In Love» singer topped last year's Celebrity 100 list; though she's a ways from the top of this year's rankings, Beyoncé has had a worthy follow-up. Last summer's On The Run tour with husband Jay Z grossed over $100 million for 19 North American shows, giving music's first couple a nightly average on par with the Rolling Stones.
30. Kevin Durant
Earnings: $52M
Athlete, Basketball
The four-time NBA scoring champ won his first MVP trophy in 2014 after leading the Oklahoma Thunder to the second best record in the NBA. The 2015-16 season is the final year on the $85 million contract he signed with the Oklahoma City Thunder in 2010. Durant inked a blockbuster, 10-year deal with Nike in 2014 that could be worth up to $300 million, including royalties. It is the richest endorsement deal of any active athlete. Nike is one of a dozen sponsors in Durant's arsenal, which also includes BBVA, Sprint, Sonic, Panini, 2K Sports, Skullcandy and more.
31. Elton John
Earnings: $53.5M
Musician
The «Rocket Man» singer is sticking with what launched him to success—his music and stage presence—playing 94 shows during our scoring period. These top tour dollars add to a steady stream of royalties from his work as a solo artist and composer for theatrical productions like The Lion King. John married longtime partner David Furnish in December.
32. Toby Keith
Earnings: $53M
Musician
Though he only played 29 shows in our scoring period, Keith still out-earned most of his country peers thanks to his wide range of brand extensions. With his own record label, a multimillion-dollar endorsement deal with Ford, mescal line Wild Shot and more than 20 locations of his I Love This Bar And Grill, he'd make the list even if he stopped touring.
33. Kim Kardashian
Earnings: $52.5M
TV Personality
Kim Kardashian has monetized fame better than any other. The reality star made more this year than ever as her earnings nearly doubled to $53 million from 2014's $28 million. The former stylist to Paris Hilton owes nearly half her paycheck to her newly-released iPhone and tablet game Kim Kardashian: Hollywood, in which players are invited to create their own celebrity. Kardashian, who has 33 million Twitter followers and 37 million Instagram followers, still appears on her family's two reality shows «Keeping Up With The Kardashians» and «Khloe & Kourtney Take The Hamptons.» In 2015, she published a book called «Selfish» comprised entirely of selfies she has taken over the years.
34. Jennifer Lawrence
Earnings: $52M
Actress
Jennifer Lawrence earns more than any other woman in Hollywood, thanks to her signature role as Katniss Everdeen in «The Hunger Games» trilogy. Those films proved Lawrence's box office brawn as a female action hero and helped her negotiate a very favorable share of the more recent films' profits. Outside Panem, Lawrence is reuniting with her «Silver Linings Playbook» costar, Bradley Cooper, for the comedic drama «Joy.» Lawrence supplements her silver screen income with a lucrative Dior contract.
35. Paul McCartney
Earnings: $51.5M
Musician
One of a few British rock legends toward the top of our list, McCartney's success this year was fueled by his touring, which proved that at 73, he has no plans of slowing down. Sir McCartney didn't dwell on the past, collaborating with Kanye West and Rihanna on the hit «FourFiveSeconds.» This year, McCartney was rewarded for his many years in the music industry when The Art of McCartney, a 42-song tribute album, was released.
36. Phil Mickelson
Earnings: $52M
Athlete, Golf
Mickelson earns more than $40 million annually from appearances and endorsement partners Callaway, Barclays, KPMG, Exxon Mobil, Rolex and Amgen. He picked up a deal to promote psoriatic arthritis drug Enbrel after he was diagnosed with the disease in 2010 and used the drug for his treatment. The five-time Major champion re-upped with Callaway last year in a multi-year deal to use Callaway's clubs, balls and bag during tournaments. It continues a partnership that began in 2004. Mickelson has racked up 42 PGA victories (ninth all-time), but his last win came two years ago at the 2013 British Open. His $77 million in career prize money ranks second all-time.
37. Tiger Woods
Earnings: $50.5M
Athlete, Golf
Woods made only seven cuts in 13 events during 2014 and the first half of 2015. It is a staggering fall for a player who made a record 142 straight cuts over seven years ending in 2005. Blame injuries to his elbow and back, which hampered the 14-time Majors winner over the last two years. His last Major win was the 2008 U.S. Open. The injuries dented Woods' bank account since he couldn't appear in his typical slate of overseas events where he racks up multi-million appearance fees. His prize money was only $600,000 over the last 12 months. Woods did pick up new endorsement deals in 2014 with MusclePharm and India's Hero motorcycles. Hero also signed on as the title sponsor of the golf event Woods hosts annually at the end of the year in Florida. Woods' golf course-design business has also picked up after multiple blowups. The first Woods-designed course opened in 2014 in Cabo San Lucas, Mexico. His first U.S. course is set to open outside of Houston in October. Woods is also working on course in China and Dubai.
38. Jackie Chan
Earnings: $50M
Actor
China's biggest movie star got a boost from back-end participation on «Dragon Blade,» which featured him in a starring role alongside Adrien Brody and John Cusack (the film grossed $120 million in China), and enough brand extensions to make Jay Z jealous. His empire includes a line of Chan-branded merchandise, a Segway dealership and an eponymous cinema chain. Later this year, he'll voice a character in «Kung Fu Panda 3» and star opposite Johnny Knoxville in «Skiptrace,» an east-west coproduction that counts Chan as an investor.
39. Kobe Bryant
Earnings: $49.5M
Athlete, Basketball
Bryant had the highest salary in the NBA for the fifth straight year at $23.5 million in 2014-15. Bryant took a $7 million pay cut on his Lakers' salary last season under the two-year, $48.5 million extension he signed in 2013. Injuries limited the 17-time All-Star to only 41 games combined over the past two seasons. The five-time NBA champion still has deals with Nike, Lenovo, Hublot and Panini, but is moving away from straight endorsement deals in favor of being part of businesses. His future includes Kobe Inc., which he set up in 2013. The firm's first investment was $4-6 million in 2014 to buy more than 10% of emerging sports drink BodyArmor. Bryant will sit on BodyArmour's board of directors and focus on the marketing and branding of the product.
40. Ben Roethlisberger
Earnings: $49M
Athlete, Football
Roethlisberger signed a four-year, $87.4 million extension with the Pittsburgh Steelers in March that included a $31 million signing bonus. Since being drafted in 2004 by the Steelers, «Big Ben» has led the team to two Super Bowl championships. Roethlisberger continues to be a prolific passer 11 years into his career. He posted career highs for passing yards and touchdown passes in 2014. Last year, Roethlisberger became the first player to throw for 500 yards in two different games, as well as the first player to record six touchdowns in two consecutive games.
41. Ben Roethlisberger
Earnings: $49M
Athlete, Football
Roethlisberger signed a four-year, $87.4 million extension with the Pittsburgh Steelers in March that included a $31 million signing bonus. Since being drafted in 2004 by the Steelers, «Big Ben» has led the team to two Super Bowl championships. Roethlisberger continues to be a prolific passer 11 years into his career. He posted career highs for passing yards and touchdown passes in 2014. Last year, Roethlisberger became the first player to throw for 500 yards in two different games, as well as the first player to record six touchdowns in two consecutive games.
42. Novak Djokovic
Earnings: $48M
Athlete, Tennis
Djokovic has been on an incredible roll since he elevated his game starting in 2011. He appeared in the finals of 13 of the last 18 Grand Slams (winning seven) and pocketed $59 million in prize money since the start of 2011. He ranks second all-time in prize money with $79 million. His endorsement profile has picked up in recent years and is starting to match his game. He picked up lucrative deals with ANZ, Jacob's Creek, Peugeot and Seiko last year. His deal with winery Jacob's Creek is for a series of documentaries on his life. Djokovic also cashes in with $1 million a pop exhibition fees. Djokovic donated his $750,000 winner's check from winning the Italian Open last year to relief efforts for flooding in his native Serbia.
43. Vin Diesel
Earnings: $47M
Actor
Vin Diesel sped his way to the best annual paycheck of his career this year thanks to his role as Dominic Toretto in Universal's «Fast and Furious» franchise. The latest installment of multicultural car crusades, «Furious 7,» grossed $1.5 billion at the box office, 77% of that from overseas. With 93 million Facebook fans, the hugely popular Diesel has become a leading man to be reckoned with. «The whole point [of Fast and the Furious] was to diversify Hollywood,» Diesel told Forbes.
43. Judy Sheindlin
Earnings: $47M
TV Personality
Judy Sheindlin, or Judge Judy as her fans like to call her, has been an on-air presenter dealing out doses of legal advice for 19 seasons. On average, about 10 million people tune in to watch her program daily. While she has been nominated for a daytime Emmy 15 times, she just recently won one in 2013. She dabbled in the corporate world before taking her no-nonsense attitude to the small screen in 1996.
45. Michael Bublé
Earnings: $45.5M
Musician
One of only two Canadians on this year's Celeb 100, this singer-songwriter remains a popular performer, earning millions from the 71 shows he played as part of his To Be Loved tour during our scoring period. Bublé also appeared on the small screen, hosting his 4th Annual Christmas Special for NBC and appearing on Sesame Street. With a confirmed new album in the works, it seems Buble will be singing the world love songs for quite a while.
46. Gisele Bundchen
Earnings: $44M
Model
The highest-paid model in fashion, Gisele Bundchen continues to out-earn her younger counterparts. Though reports swirled that Gisele was retiring from the runway, her earnings have not been dented. The versatile Brazilian continues to clock lucrative beauty and fragrance contracts with Chanel and Carolina Herrera, supplementing those money makers with prestigious high fashion campaigns for Emilio Pucci and Balenciaga. Gisele's Under Armour advertisement, which pictured her attacking a punch bag while social media commentary blared in the background, was perhaps the most impactful this year. Gisele has turned her name into a brand: she gets a cut of sales from the jelly sandals she designs for Brazilian shoemaker Grendene, while her line of Hope lingerie — Gisele Bundchen Intimates — also plumps up her paycheck.
47. Jason Aldean
Earnings: $43.5M
Musician
In something of an upset, the country crooner edged more established stars like Kenny Chesney and Tim McGraw on this year's Celebrity 100. Part of the reason: his rock-tinged brand of country translates overseas, as Aldean found during five shows in Sweden, Ireland and the U.K. this winter. He also joined listmates Beyoncé and Jay Z as owners of streaming service Tidal.
48. Luke Bryan
Earnings: $42.5
Musician
Earning millions from touring, music and endorsements, this country crossover seems to be a moneymaking machine. «I See You» and «Roller Coaster,» the two singles from album Crash My Party released during our scoring period, both reached No. 1 on the Country Airplay Charts. When he isn't singing, Bryan increases his earnings through partnerships with Miller Lite and outdoors merchandise brand Cabela's.
49. Kenny Chesney
Earnings: $42M
Musician
This country crooner seemed to be predicting his own future with his fifteenth studio album The Big Revival that was released in September 2014. In addition to music sales and stadium tours, Chesney has endorsement deals with Corona beer and Costa sunglasses, adding to earnings from his own Blue Chair Bay rum. With an upcoming 10 shows alongside fellow Celebrity 100 country star Jason Aldean, the last half of this year will likely be just as lucrative as the first.
50. Bradley Cooper
Earnings: $41.5M
Actor
Bradley Cooper makes the Celebrity 100 for the second time this year thanks to his ability to balance popcorn cheese such as «Aloha» with Oscar-worthy fare including «American Sniper.» Cooper produced and starred in the latter, which was directed by Clint Eastwood after Steven Spielberg passed on the military epic. The only hangover from the bro trilogy Cooper hit the big time with is his production company, which he runs with «Hangover» director Todd Phillips.
51. Adam Sandler
Earnings: $41M
Actor
Though it has been a while since Adam Sandler had an out-and-out multiplex hit, he continues to command top dollar for bloated budget movies such as 2015's «Pixels.» Sandler, whose films have traditionally been popular with on-demand and DVD-watching couch potatoes, this year signed on to make four films exclusively for Netflix. The deal saves on costly distribution and delivers Sandler's comedies directly to his target audiences, though Sandler has already come under fire for allegedly racist depictions on the set of mock Western «The Ridiculous 6.»
52. Tom Cruise
Earnings: $40M
Actor
Tom Cruise has defined the role of agent Ethan Hunt in the «Mission: Impossible» movies. For that reason, he has been able to maneuver himself into earning a ton based on how the blockbusters perform at the box office. He earned an estimated $40 million in profit from 2012's «Mission: Impossible Ghost Protocol», which grossed $694.7 million at global ticketing booths. Cruise owes this year's paycheck to his upfront fees for 2015′s «Mission: Impossible Rogue Nation» and last year's action flick «Edge of Tomorrow.» 
52. Bruno Mars
Earnings: $40M
Musician
His work on «Uptown Funk,» which spent 14 consecutive weeks at No. 1 on the charts, was only one of many reasons this singer solidified his place on the Celebrity 100. After being the featured musician in FORBES' 30 Under 30 Class of 2014, Mars continued to make a name for himself by completing his Moonshine Jungle tour. He is currently working on his next album, and if it goes anything like his last, Mars can expect the awards and dollars to keep rolling in.
54. Drake
Earnings: $39.5M
Musician
Drake goes 0 to 100 real quick this year, joining the Celebrity 100 for the first time thanks mostly to his earnings on the road. (The OVO impresario is already a regular on our Hip-Hop Cash Kings list of highest-earning rappers.) His surprise record «If You're Reading This It's Too Late,» swiftly went gold following its February release; the Canadian has since parlayed that energy to run through several festival headlining spots. A former child star, Drake supplements his income with endorsements for Sprite and Nike.
55. Lewis Hamilton
Earnings: $39M
Athlete, Racing
Hamilton inked a three-year contract extension in May to drive for Mercedes' F1 team. The deal kicks in with the 2016 season and could pay out more than $140 million, including bonuses. Hamilton won his second F1 World Championship last year and is headed towards a third in 2015. Hamilton moved to Mercedes for the 2013 season in part to open potential sponsorship opportunities. He is one of the most marketable drivers in the sport (the UK's SportsPro magazine named him the most marketable athlete in the world in 2014). Hamilton currently has two personal endorsement deals with IWC and Bombardier. His new Mercedes contract is expected to permit Hamilton to seek more personal endorsements.
55. Zlatan Ibrahimovic
Earnings: $39M
Athlete, Soccer
For the third year in a row, the Swedish striker led Paris Saint-Germain in goals and to the French league title. He fueled speculation he will make a move to MLS after his contract with the capital city's club expires in 2016 when he applied for a US working Visa. In late 2014 he signaled an end to his long-term sponsorship deal with Nike by wearing a pair of cleats with the swoosh logo barely visible.
74. Ndamukong Suh
Earnings: $38.5M
Athlete, Football
The Miami Dolphins signed Suh to a six-year, $114.3 million contract in March after Suh spent five years with the Detroit Lions. With a $25 million signing bonus and $59.9 million guaranteed, the defensive end is now the highest paid defensive player in NFL history. Suh is often mired in controversy, setting a record for personal fouls with nine in his first two years in the league. Despite paying over $200,000 in fines, the Dolphins are more interested in Suh's high level of play and four Pro Bowl selections.
58. Foo Fighters
Earnings: $38M
Musicians
Two decades into their rock career, the Foo Fighters continue to sell both records and concert tickets. Their eighth studio album, Sonic Highways, includes eight songs, each inspired by a different American city, and was created concurrently with an HBO miniseries. The ensuing tour continues through this summer, but the Foo Fighters' most memorable performance of the year came when they played «Everlong» for David Letterman during his Late Show farewell.
58. Tim McGraw
Earnings: $38M
Musician
One of the biggest names in country for over two decades, McGraw continued his reign over the American heartland this year with the release of his thirteenth studio album Sundown Heaven Town, which debuted at No. 1 on the country charts. Its accompanying tour, which included 48 shows during our scoring period, added double-digit millions to his bottom line. McGraw continues to expand on his acting career with a role in «Tomorrowland»; he also boasts endorsement deals with Penzoil and AKG headphones.
60. David Guetta
Earnings: $37M
Musician
The French DJ is back among this year's top-earning celebrities after a strong 12 months that saw him play almost 30 shows in Las Vegas while still maintaining a weekly residency in Ibiza. One of a handful of EDM artists who has found mainstream pop success, the former Parisian club owner has worked with the likes of Lady Gaga, Britney Spears and Nicki Minaj to great success. He earned an estimated $37 million in FORBES' scoring period due to rising show fees, which can now be in the seven-figures for some major festivals. He was a headliner at the most recent Coachella and is a major attraction in overseas markets like South America and Europe.
61. Florida Georgia Line
Earnings: $36.5M
Musician
Co-frontmen Tyler Hubbard and Brian Kelley had a big year that included the release of Anything Goes, their second studio album, and a lucrative tour to match. The duo won the 2015 Billboard Music Award for Top Country Artist and the 2015 Academy of Country Music Awards for Vocal Event of the Year and Vocal Duo of the Year. This sort of attention is the reason Florida Georgia Line is emerging as a favorite partner for brands like Mountain Dew.
62. Jimmy Buffet
Earnings: $36M
Musicians
One of the best in the business at extending his brand, Buffett boasts a Margaritaville empire with more than two-dozen locations. His earnings from non-musical business ventures dwarfs income from both his songs and live shows, putting him in an elite group alongside the likes of Diddy and Dr. Dre.
63. Jerry Seinfeld
Earnings: $36M
Comedian
Seinfeld has always raked in several million dollars in syndication for that eponymous little show about nothing, and this year the comedy proved more valuable than ever: Hulu purchased the rights to «Seinfeld» in a whopping $160 million dollar deal, a number that will impact his future earnings. But the comedian isn't resting on his laurels. He has a hit among viewers and critics alike with his online series «Comedians in Cars Getting Coffee» while also earning top tour dollars thanks to the large crowds he pulls.
64. Tiesto
Earnings: $36M
Musician
Though he's one of the older DJs on the circuit, Tiesto still out-earns whippersnappers from Avicii to Zedd, thanks to sky-high nightly fees and a work ethic to match. The Dutch DJ played over 100 dates during our scoring period, one of only four acts on our list to accomplish that feat. He also pads his coffers by endorsing the likes of Guess and Mountain Dew.
65. Fernando Alonso
Earnings: $35.5M
Athlete, Racing
Alonso secured another massive payday when he negotiated a return to McLaren, where he raced during the 2007 season. The two-year deal is worth more than $30 million annually. The two-time World Champion finished second in the F1 standings in 2012 and 2013, but dropped to sixth last year in his final year with Ferrari. Alonso failed to secure a single point in the first five races of the 2015 F1 season. Alonso partnered with UAE sport investment firm Novo last year to establish a professional cycling team in the future.
66. Scarlett Johansson
Earnings: $35.5M
Actress
Scarlett Johansson's reputation—and reimbursement—is on the rise. By combining popcorn fare such as «Avengers: Age of Ultron» and «Captain America» with her first major action hero role in «Lucy,» which grossed $459 million, Johansson has proven she is a box office draw. As a leading woman, she commands over $10 million a movie, while reports place her fee for forthcoming thriller «Ghost in the Shell» at $17.5 million. Johansson this year made more than any other, supplementing her movie money with Dolce & Gabbana and Sodastream endorsements.
67. Gareth Bale
Earnings: $35M
Athlete, Soccer
Talk is heating up that the Welshman is on the move back to the U.K. after Real Madrid spent a whopping $118 million to acquire him from Tottenham in 2013. No matter where he goes he's poised to remain a standout fixture for sponsor Adidas, having inked a six-year contract in 2014 worth an estimated $35 million. When not on the pitch, Bale will be in front of the camera for BT Sport doing commentary as part of a three-year deal he signed with the broadcaster.
68. David Letterman
Earnings: $35M
TV Personality
In May, David Letterman hosted his last CBS show as a late-night TV presenter. After 33 years as one of the most prominent personalities, he spent his final night on-air reminiscing on his time behind the desk through clips, guests and jokes. Letterman, who said he is going to spend more time with his family during his retirement, was the longest-running late night host ever, surpassing Johnny Carson's 30-year run.
69. Jon Lester
Earnings: $34M
Athlete, Baseball
Lester's new $155 million deal with the Cubs includes a $30 million signing bonus with half paid in April (the balance is paid in installments between 2018 and 2020). Look for Lester to be a hit with Chicago companies. He left behind local endorsement deals with New England Ford, Verizon Wireless and People's United Bank when he left Boston. Nike remains his biggest sponsor.
70. Derrick Rose
Earnings: $34M
Athlete, Basketball
Rose suited up for 51 games last season for the Chicago Bulls, which was his most since the 2010-11 season. Injuries have derailed the career of the former MVP and No. 1 overall draft pick. He has two seasons left on the five-year, $95 million deal he signed with the Bulls at the end of 2011. Rose is one of the NBA's top earners off the court thanks to the massive 13-year, $185 million Adidas shoe deal he signed in 2012. The deal paid Rose a base retainer of $12 million last year. Adidas sold $32 million of his signature shoes in the U.S. in 2014, according to research firm SportsOneSource. Other Rose partners include Powerade, Wilson, Skullcandy, 2K Sports, Giordano's and Panini. 
71. Amitabh Bachchan
Earnings: $33.5M
Actor
Bollywood stalwart Amitabh Bachchan has starred in more than 150 movies in his fifty year career. He continues to earn top rupee for his roles in flicks such 2014's «Bhoothnath Returns.» Though Indian movies gross far less than U.S. films at the box office, they recoup costs by selling satellite rights to TV channels. But unlike the U.S., where first dollar gross deals are a thing of the past, Bollywood stars such as Bachchan continue to earn a cut of each film's ticketing revenue. Bachchan bolsters his earnings as the longstanding host of India's version of «Who Wants To Be A Millionaire?» («Kaun Banega Crorepati»), which aired its eighth season in 2014.
72. Salman Khan
Earnings: $33.5M
Actor
One of India's biggest star, Salman Khan has appeared in some 80 movies since his 1989 breakout role «Maine Pyar Kiya.» Khan continues to produce and star in films, earning well for roles in flicks such as 2014's «Kick.» He also appears on the small screen hosting reality show «Bigg Boss,» the Indian version of «Big Brother.» Khan's Being Human clothing line clocked $30 million in 2014 revenue, with proceeds going to his foundation. He makes bank endorsing other brands including Thums Up (India's Coca-Cola) and Suzuki. Bollywood's bad boy has long been trailed by controversy: ex-girlfriend Aishwarya Rai accused him of abusing her, while in 2006 he was convicted of poaching an endangered gazelle on a 1998 hunting trip. In May 2015 Khan was sentenced to five years in prison for a 2002 hit-and-run car incident which killed a homeless man. Khan said his driver was behind the wheel; the judge ruled Khan had been under the influence of alcohol.
73. Dr. Dre
Earnings: $33M
Musician
His Beats sale earned him $620 million last year, the largest annual payday of any musician in history. Despite a year-over-year dropoff of more than half a billion dollars of income, Dre still makes the list thanks to smaller checks from Apple and his extensive production catalogue; he's also a producer of the upcoming film Straight Outta Compton.
74. Maroon 5
Earnings: $33M
Musicians
The pop-rock supergroup continues to churn out hit after hit, part of the reason the band's latest tour boasted ticket prices that trailed only Fleetwood Mac on the secondary market. With recent singles like «Animals,» «Sugar» and «Maps,» Maroon 5 was also nominated for three Billboard Music Awards. With more tour dates ahead, expect the cash to keep coming.
75. Sebastian Vettel
Earnings: $33M
Athlete, Racing
Vettel fulfilled a lifelong dream in the fall of 2014 when he inked a three-year deal to drive for Ferrari. The contract is one of the richest in the F1 and could pay out more than $40 million annually, including bonuses if Vettel performs. The German driver dominated the sport between 2010 and 2013, winning the World Championship each year. Vettel tied Michael Schumacher's record for most wins in a season with 13 in 2013. He finished fifth in the final standings in 2014 in his final year driving for Red Bull.
76. Ashkay Kumar
Earnings: $32.5M
Actor
Bollywood superstar Akshay Kumar has appeared in some 150 movies since his 1992 breakthrough in «Khiladi.» He is one of Bollywood's busiest leading men, filming an average of four movies a year. Kumar earns top rupee for roles in 2014 movies such as «Holiday» and «Entertainment.» Though Indian movies gross far less than U.S. films at the box office, they recoup costs by selling satellite rights to TV channels. But unlike the U.S., where first dollar gross deals are a pact of the past, Bollywood stars such as Kumar continue to earn a cut of each film's ticketing revenue. Kumar bolsters his earnings hosting Indian reality TV show «Dare 2 Dance» and endorsing products that align with his action hero status: Honda motorcycles, a range of white vests, and a brand of steel pipes, among others.
77. Rafael Nadal
Earnings: $32.5M
Athlete, Tennis
Nadal struggled with injuries after a monster 2013 season and saw his prize money drop by $10 million to $4.5 million in the latest 12 months. He was the No. 1 player in the world as recently as June 2014, but sits at No. 10 a year later. He even lost at the French Open in the semifinals after winning 66 of his previous 67 matches and nine titles at Roland Garros. Nadal did ink two new corporate partners in Tommy Hilfiger and Spanish communications giant Telefonica. Kia Motor also renewed in May for five years through 2020 with Nadal. They first partnered in 2004. Nadal's $73 million in career prize money ranks third all-time behind Federer and Djokovic.
78. Zac Brown Band
Earnings: $32M
Musicians
A busy tour schedule paid off for this country act, which played 78 shows during our scoring period. The group gained its third consecutive number one album with the May 2015 release of Jekyll + Hyde. The album's lead single, «Homegrown,» topped the Billboard Country Chart. And the band achieved yet another mark of success this year: debuting on Saturday Night Live.
79. Mark Wahlberg
Earnings: $32M
Actor
Mark Wahlberg is banking big off the back of 2015's teddy bear comedy «Ted 2.» His 2012 «Ted,» which followed the trials of a crass talking teddy bear, grossed $549 million on a $50 million budget. Wahlberg returns as the main character, John, while screenwriter and executive producer Seth MacFarlane voices the coarse soft toy. Wahlberg's paycheck is supplemented with roles in 2014's flop «The Gambler,» which grossed just $39 million on a $24 million budget, and «Transformers: Age of Extinction,» which performed far better. His company produced the «Entourage» movie; it's latest HBO offering is Dwayne Johnson's football comedy «Ballers.»
80. Pharrell Williams
Earnings: $32M
Musician
The «Happy» singer is one of the more diversified performers on the Celeb 100, clocking multimillion-dollar checks from touring, music and his role as a judge on «The Voice» alongside listmates Blake Shelton and Maroon 5's Adam Levine. He also mingles his fashion sense with an entrepreneurial streak, as evidenced by his Billionaire Boys Club and Ice Cream clothing lines.
81. Dwayne Johnson
Earnings: $31.5M
Actor
With 2015's earthquake disaster film «San Andreas,» Dwayne Johnson has proved he is an out-and-out action star. The movie, carried on The Rock's sizable shoulders, grossed an impressive $385 million at the global box office. Once a wrestling star, Johnson is now moving from the ring to the small screen. He is executive producing and starring in HBO comedy «Ballers,» about a group of football players.
82. Mahendra Singh Dhoni
Earnings: $31M
Athlete, Cricket
Dhoni retired from Test cricket at the end of 2014, ceding his Indian national team captainship to fellow star Virat Kohli, but he remains India's captain at the ODI and T20 levels. He led India to the semifinal round of the 2015 Cricket World Cup before suffering a loss to eventual champion Australia, and in May the Chennai Super Kings went to the IPL Finals for the sixth time in his eight years as team captain. He is co-producing «M.S Dhoni: The Untold Story,» an upcoming biopic that has been fraught with delays but has already funneled some $3 million into the Indian star's pockets.
83. Eminem
Earnings: $31M
Musician
The Detroit native only played 13 shows during our scoring period, but he sure made them count. His six shows on last summer's co-headlining Monster Tour with Rihanna averaged north of $5 million per show; their pair of shows at Metlife Stadium grossed a total of $12.4 million, slightly more than Jay Z and Beyoncé tallied over two nights at the same venue.
84. Neymar
Earnings: $31M
Athlete, Soccer
The Brazilian wonderkid banked more from sponsors than from Barcelona, something marketing juggernaut David Beckham perfected before him. The difference: Neymar is doing this at 23-years old before his playing career peaks. Part of the reason for the tilt was a bump in sponsorships that came on the heels of the World Cup held in his homeland. His Nike and Beats By Dre commercials were lauded as two of the event's most memorable. His playing contract is a good fallback for his natural talent. He's making $75 million over five years.
85. Britney Spears
Earnings: $31M
Musician
Though Spears' golden age may have been over a decade ago, the money hasn't stopped coming. She continued to make millions off of her Planet Hollywood residency in Las Vegas, also earning from new music like «Pretty Girls,» her collaboration with Iggy Azalea. Spears also launched The Intimate Britney Spears, a lingerie line that sells globally, and announced that she is working on what will be her ninth studio album.
86. Carmelo Anthony
Earnings: $30.5M
Athlete, Basketball
Anthony signed a five-year, $124 million contract last summer to remain the Knicks' cornerstone player, but a left knee injury limited him to only 40 games. The deal was worth $5 million less than the maximum and included a no-trade clause, an extreme rarity in the NBA. Anthony is one of the top NBA earners off the court through deals with Nike's Jordan Brand, Foot Locker, IWC, Steiner Sports, Mission and others. Nike sold $30 million worth of his signature Jordan shoes in the U.S. in 2014. Anthony launched his own venture capital firm, M7 Tech Partners, in July 2014.
87. Johnny Depp
Earnings: $30M
Actor
Johnny Depp is setting sail as Captain Jack Sparrow for the fifth time, in the forthcoming «Pirates of the Caribbean: Dead Men Tell No Tales.» The big budget blockbuster sees him reprise role as the beloved swashbuckler. Depp is first exploring more gritty territory in «Black Mass,» the story of violent criminal Whitey Bulger who became an FBI informant. Depp apparently delayed production in 2013 when its makers were said to have balked at paying him a reported $23 million.
88. Maria Sharapova
Earnings: $29.5M
Athlete, Tennis
Sharapova was injured and played only one match in the second half of 2013, but bounced back in 2014 to win her second French Open title and fifth Grand Slam overall. Her $6.7 million in prize money is almost triple what it was in the previous 12 months. The Roland Garros title kicked in valuable bonuses from sponsors Nike and Head. Other major endorsement partners include Avon Products (new in 2014), Samsung, Tag Heuer and Evian. Sharapova launched her own candy line, Sugarpova, in 2012. Sales doubled in the past year to more than three million bags of candy.
Earnings: $29M
Actor
«The Wolf Of Wall Street» star is returning to the big screen in 2015 with the hotly-anticipated «The Revenant.» The dark western, by «Birdman» director Alejandro González Iñárritu, is set to be an Oscar hopeful for the actor. Outside the multiplex, the fervent environmentalist is also partnering with Netflix on a set of conservation documentaries.
90. Sean Hannity
Earnings: $29M
Radio Host
Sean Hannity, the rarely rivaled and rarely totally appropriate conservative talk show host, is considering a move south—possibly to Florida. His comments last year about relocating to the sunny tax haven came, as they always do, in the midst of a right-versus-left debate. This time, on income taxes. Hannity, of course, can be found fighting such partisan battles on Fox News at 9 p.m. and on his nationally syndicated radio show. He remains the go-to place for conversations, and confessions, with the GOP elite, most recently having Jeb Bush on to explain a flubbed comment about Iraq.
91. Carson Palmer
Earnings: $29M
Athlete, Football
Palmer signed a three-year, $49.5 million extension in November with the Arizona Cardinals. Two days later he suffered a season-ending ACL tear. The deal included $19.5 million in bonuses paid out over the first four months of the contract. Palmer is expected to be ready for the start of the 2015 season. The former Cincinnati Bengal still holds numerous Bengals franchise records including most touchdowns in a game, most consecutive games with a passer rating over 100 and most game-winning drives.  
92. Jim Parsons
Earnings: $29M
Actor
He's won four Emmys for his portrayal of geeky know-it-all Sheldon Cooper in CBS' «The Big Bang Theory,» and now, Jim Parsons has the salary to match the hardware. Last August, he reportedly negotiated a Friends-like $1 million-per-episode contract, earning a raise that has more than doubled his earnings from last year. His most recent role as the titular character in Broadway's «An Act of God» hasn't been quite as accretive to his fortune, it has helped solidify his reputation as an almighty comedian.
93. James Rodriguez
Earnings: $29M
Athlete, Soccer
Though his Colombian squad lost in the quarterfinals of the 2014 World Cup, Rodriguez left with the Golden Boot award, given to the best player of the event, for scoring a tournament-high six goals. The striker's $100 million move to Real Madrid followed, along with an immediate comparison to Cristiano Ronaldo. Shortly after, he posed in his new line of J10 underwear created by his newest sponsor Bronzini Black. Rodriguez recently signed a long-term extension with Adidas and a new deal with Gatorade.
94. Channing Tatum
Earnings: $29M
Actor
Channing Tatum's star is on the rise. Best known for light teen flicks and action movies such as the «Jump Street» series, Tatum is now proving his mettle as a producer. Tatum's 2012 «Magic Mike» was a massive hit, grossing $167 million on a $7 million budget. He is producing and starring in «Magic Mike XXL», the hotly anticipated stripper sequel. Tatum is also branching out into less commercial fare, including the Coen brothers' forthcoming «Hail, Caeser!» and Quentin Tarantino's «The Hateful Eight.»
95. Jennifer Lopez
Earnings: $28.5M
Musician
She may have begun her career as Jenny from the Block, but for Lopez, music is no longer the primary moneymaker: she played only five shows during our scoring period. Lopez made millions when she returned as a judge on «American Idol»; recent acting roles include the film «The Boy Next Door» and upcoming NBC drama «Shades of Blue.» With two albums in the works and an upcoming residency at Las Vegas' Planet Hollywood, though, Lopez isn't straying too far from her roots.
96. Miranda Lambert
Earnings: $28.5M
Musician
This country superstar had her biggest year yet, walking away from the Academy of Country Music Awards with honors including Female Vocalist of the Year, Song of the Year and Album of the Year. Lambert boasts a long list of endorsement deals and business ventures, including partnerships with Red55 Wine, Pink Pistol and Dixie Darlin, as well as her own line of clothing and pet accessories. Lambert and husband Blake Shelton are one of only three couples where both members earned a spot on this year's Celebrity 100.
97. Sofia Vergara
Earnings: $28.5M
Actress
Vergara is still the highest-earning actress on television thanks to a hefty per episode pay on «Modern Family,» plus several lucrative endorsement deals. Off-camera, she's been building a business empire; she co-founded talent management and entertainment-marketing firm Latin World Entertainment in the 90s, years before American viewers were introduced to Gloria Delgado-Pritchett. She smartly leveraged TV fame into endorsement opportunities and an abundance of licensing deals (she has her hands in everything from furniture to jewelry to fragrance).
98. Kaley Cuoco-Sweeting
Earnings: $28.5M
Actress
Stars of «The Big Bang Theory,» Cuoco, Jim Parsons and Johnny Galecki got a big raise last year when they negotiated a reported $1 million per episode salary — the first cast to score such a payday since the cast of 'Friends' in 2002. The deal also came with a greater cut of backend and syndication profits, and that, plus Cuoco's lucrative endorsement contract with Priceline.com, makes her the highest-paid actress on television. Thecast has proven their worth to CBS — in its eighth season the show was the number one comedy on TV, and the second highest-rated show overall, bested only by Sunday Night Football.
99. Blake Shelton
Earnings: $28.5M
Musician
Like listmates Pharrell Williams and Maroon 5's Adam Levine, Shelton has used his role as a judge on «The Voice» to boost both his profile and his bank account. He still had enough time to play 42 shows during our scoring period and pop up at wife Miranda Lambert's concerts on occasion; together they're one of only three couples where both members made the Celebrity 100.
100. Kevin Hart
Earnings: $28.5M
Comedian
For the past few years, Hart has been bringing in more money than the average comedian. But with starring roles in hit films «Think Like a Man Too,» «Get Hard» and «The Wedding Ringer,» his earnings skyrocketed. These add to the millions he makes from live shows each year—he did 48 during our scoring period—making him one of only two comedians, alongside Jerry Seinfeld, on the Celebrity 100.
Источник: http://www.forbes.com/pictures/eeel45ffgdm/1-floyd-mayweather-jr/